KidCheck PrintHub Benefits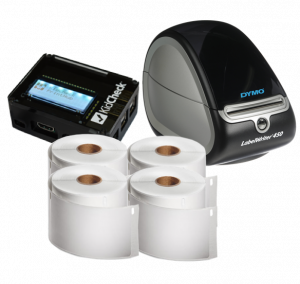 Whether your check-in is a traditional check-in setup or a mobile solution, the KidCheck PrintHub offers many benefits. Plus, the PrintHub is affordable, easy to setup and use with the dedicated mobile setup app, an LCD providing key diagnostic information and status updates, and the included high-performance USB wireless antenna.
Here are the top three advantages of using the KidCheck PrintHub.
1.Faster Mobile Printing
For those using a mobile check-in solution, such as an iPad, the KidCheck PrintHub makes printing children's check-in labels and guardian receipts, a whole lot faster. With the PrintHub, there's no need for a separate computer in the printing process. Here's how it works: When families check- in it initiates printing right from the chosen check-in tablet, allowing for labels and guardian receipts to be printed quickly and easily, without the need for a personal computer.
2.Eliminates Dymo Software Issues
KidCheck uses a Dymo LabelWriter printer for printing check-in badges and guardian receipts. The Dymo printer is a thermal printer, which means no ink is necessary for printing. Occasionally Dymo has software updates or makes changes. Sometimes these updates can cause frustrating delays in printing speed.
The KidCheck PrintHub still prints to the Dymo printer but doesn't use the Dymo software within the printing process. With the PrintHub, the printing process uses KidCheck software versus Dymo software which eliminates possible challenges or issues associated with any Dymo software changes
3.Enables Check-in and Printing from Mobile Phones
By licensing and pairing the PrintHub with the KidCheck Express Check-In feature, parents can check-in and print child and guardian labels from their mobile device. When a family arrives at the facility and completes check-in on their mobile device, the PrintHub recognizes the check-in and automatically prints labels, eliminating the need for parents to wait in line and physically check children in at the facility.
Meeting the Demand for Mobile
As the demand for mobile solutions continues to grow, options such as the KidCheck PrintHub, offer a unique opportunity to streamline your check-in process, increase parent satisfaction and demonstrate a commitment to efficiency and convenience.
The KidCheck PrintHub and Dymo label printers are available on the KidCheck Store. KidCheck's mobile check-in app is available for download from the App Store (SM) and Google Play™ Store.
To learn more about KidCheck secure children's check-in system visit the KidCheck website or join our growing social community on Twitter, Facebook, Google+, Pinterest or Instagram.