KidCheck's Next Generation Mobile Printing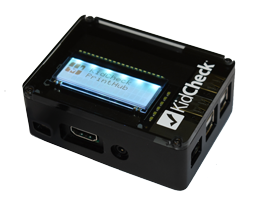 Whether you're new to the KidCheck family or you've been with us a while, you know how committed we are to providing next-gen mobile check-in products that are affordable, easy to set up and use and increase parent satisfaction. We put a lot of effort into bringing all the pieces of the mobile check-in puzzle together to help organizations seamlessly transition to and effectively use mobile to enhance their organization.
Mobile Options
KidCheck mobile options include Express Check-In, where parents check-in on their smartphone, or a Mobile Check-In Station, where tablets at the facility are used for check-in. Both choices can be incorporated with a traditional check-in setup or as a stand-alone process. Either way, the benefit of parents being able to check-in using a mobile device is huge. The added flexibility and convenience, plus parent satisfaction, coupled with shorter check-in lines and more efficiency are a few of the advantages.
ExpressHub Magic
Much of the ease of mobile check-in and printing is due to the KidCheck ExpressHub. The ExpressHub is a wireless printing solution which allows for mobile printing without the need for a personal computer or associated printer software.  Plus, it's a key part of Express Check-In. It will transform your children's check-in process by providing faster, easier, and more reliable printing of check-in labels. It comes pre-configured to automatically work with KidCheck and label printers.
Introducing the New PrintHub 3
Now, we're excited to announce the release of the latest generation PrintHub, the PrintHub 3. The new PrintHub 3 has a sleek new design with the black aluminum case. It features a 5GHz antenna for improved range and amazing Wi-Fi connectivity for better overall performance. It features a dedicated mobile set up app and LCD display which provides key diagnostic information and status updates. The KidCheck PrintHub 3 is available on the KidCheck store, starting at $299.
Special Offer: To celebrate the PrintHub 3 introduction: Get the Express Check-In license free for the first year with the purchase of a KidCheck PrintHub 3 through September 30, 2018!
We've received such positive feedback from churches, fitness facilities, and other child-centered organizations using KidCheck about the benefits of our PrintHub technology, and now we're thrilled to offer even more performance with the PrintHub 3.
Click here to learn more about the benefits of using KidCheck's secure children's check-in with a personalized demo. You can also visit the KidCheck blog or join our growing social community on Twitter, Facebook, Google+, Pinterest, and Instagram.