Mobile Check-In Scenarios – How Can You Use It?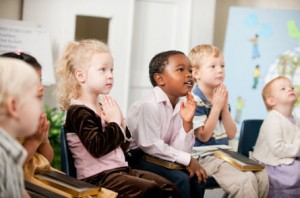 To date, our blog has covered The Benefits of Mobile Check-In, What's Needed to Get Started and How Exactly Does a Mobile Check-In App Work once it's downloaded. So now let's explore some of the scenarios in which you can use a Mobile Check-In App to improve the children's ministry experience.
While there are many scenarios where using mobile for children's check-in can help, I'm going to cover the top ones. If there are additional ones that your church is using please share as others would certainly be interested.
Top Mobile Check-In Scenarios
1. For first time visitors with children, there's nothing better than a personal greeting and an offer of help on a Sunday morning – because the family dynamic certainly changes when you're trying to get everyone to church. Mobile Check-In demonstrates to visiting families that you care and are committed to keeping their children safe. Having volunteers stationed at each entrance or walking around the church facility with a tablet device offers efficiency in setting up new accounts and checking in returning families – and it's all from the tablet device. Next, going a step further, directing or walking families to where their labels are printed takes all the guess-work out for them and offers a much needed assistance.
2. To save space and money, you can set up a manned or unmanned children's check-in station with a mobile device rather than a personal computer, with a monitor, keyboard and mouse. This also offers the opportunity to meet visiting families with a personal greeting as well.
3. The Mobile Check-In App is also great for increasing the "hip factor" for youth group and older kids. KidCheck offers a Youth Self Check-In feature which utilizes laminated badges, and doesn't require a printer, making check-in on a tablet device a breeze. Simply greet the kids when they arrive, scan their badge and BAM – yes that just happened, easy check-in!
4. Consider the benefits and improved ease of checking kids in for your bus ministry. With the mobile check-in app you can meet the kids at the bus and check them in right there on a 4G/LTE tablet. Then someone at the church, utilizing KidCheck, can print the name badges so they are waiting when the kids arrive.

5. If your infrastructure and facility setup are conducive, consider placing an iPad or Android tablet in each individual classroom. This provides an easier and cheaper option for check-in and check-out to be completed. An additional benefit for busy parents is scanning the child's name badge on the tablet which ensures only an authorized guardian is picking up.
Based on the scenarios highlighted above the KidCheck Mobile Check-In App can be used in multiple ways and is highly flexible to fit any environment. Whether you're focused on children's ministry, youth group or a special event such as VBS or Day Camp mobile, check-in has benefits that improve the check-in process and add the one thing everyone is always looking for…a much needed personal touch.