Mobile Check-In…Where do I start?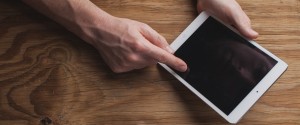 You've probably seen all the chatter as of late on the new Mobile Check-In App from KidCheck for the iPad™ and other tablet devices for Android™. We've put a lot of effort into sharing the benefits for churches in using it for children's ministry. However, you wouldn't be alone in wondering "What do I need to get started and how exactly does it work?" These are good questions and are important to explore if you're looking for a solution that increases child security, streamlines the check-in process, and promotes a positive first impression.
Let's take a look at the first question, "What do I need to get started?" To use the mobile check-in solution, you'll simply need a check-in license on the tablet device (s) and a Mac or Windows based computer to utilize for printing to a label printer(s).
If you're already a KidCheck customer, you can add a new license for the tablet or transfer an existing license from a computer to the tablet. Once you have those items in place you're ready to go onto the next step which addresses the question, "How exactly does it work?" Click here for a detailed list of system requirements.
If you're not already a part of the KidCheck family, we're glad you're here and look forward to the opportunity to share our solutions in more detail. For a free demo please click here. To get started with Mobile Check-In simply sign up for KidCheck, choose the edition you want, and designate the number of check-in licenses you need. Next, download the KidCheck mobile app to your tablet device and assign the open license. Keep in mind, we'll provide the necessary training to get you started and ready to go, for FREE!
So, "How exactly does the KidCheck Mobile Check-In App work?" Good news, it works across a variety of infrastructures. First, you'll need to designate the appropriate label printer on your tablet from within your current setup. Next, as families begin to arrive, volunteers input the family's ten-digit phone number (or use a scannable key tag) onto the mobile check-in screen, choose which children to check-in, and then direct or walk the family to where their printed child labels and guardian receipts are waiting to be picked up – business as usual.
As you can see utilizing the KidCheck Mobile Check-In App is simple, offers additional flexibility and is most of all convenient. For additional questions please visit our support center or contact us.
KidCheck's mobile check-in app is available for download from the App Store (SM) and Google Play ™ Store.