The KidCheck Label Restock Program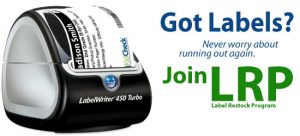 There is nothing more frustrating than forgetting to order and running out of children's check-in labels, especially when you need them. With KidCheck's Label Restock Program (LRP) we track the labels for you. This ensures you will always have the labels you need on hand and ready.
The Label Restock program is a free service KidCheck offers to ensure labels are efficiently managed.
How it works:
The system counts the labels as they print and notifies KidCheck when you are ready for your next shipment, based on the volume you choose. However, you always have the control and flexibility to activate an order, choose the minimum quantity on hand, and receive 48 hours to decline the shipment.
Plus, labels ordered through LRP are at a reduced price, you'll save money. Always have the labels you need for less!
In summary, if you're not on LRP, the benefits include:
Costs nothing to participate
Convenient – always have on hand the labels you need
Automatic –tracks usage and initiates the label order based on the thresholds you choose
Saves Money – offers a low cost per roll
If you are already taking advantage of the LRP here are some tips to get the most out of the service.
Verify the physical number of rolls on hand match the count in KidCheck and adjust if necessary.
Confirm your credit card information is up to date and trigger notification recipients are correct.
Place the newly received label rolls in the back and use the existing ones first.
Enjoy the sweet treat compliments of KidCheck that come with every order.
Click here to get set up today! For additional questions contact sales or visit the LRP feature page.