Label Restock Program (LRP)
Never run out of labels again with KidCheck's Label Restock Program! You'll always have the labels you need without having to worry about counting inventory or reordering. And since labels ordered through the LRP program are offered at a reduced price, you'll also save money! The program automatically tracks your usage and initiates a label order for you based on thresholds that you set up, and there's no cost to participate in the program. It's easy, accurate and saves you time, money and effort.
In your KidCheck account simply input some basic information about the quantity of labels you want to trigger an order, how many you labels you want shipped, where they should be sent to, the associated credit card and who should receive notification of the label order.
Click the System Settings icon in the upper right
Choose Label Restock Program from the sidebar on the left
Select your Printer Type by choosing the DYMO or Brother tab
Click the box to Enable Label Restock
Complete the restock settings for Trigger Quantity, Restock Quantity and Current Quantity on Hand
Select who you want the Label Restock Program shipment Notifications to be sent to from the Trigger Notification Recipients drop down
Input or confirm your Shipping Address
Don't forget to Save all information with the Save Changes button on the top left/lower right of your screen (Payment Method will be set to the credit card you have on file for your subscription, go to Billing & Order History under System Settings>Your Account if this needs to be updated)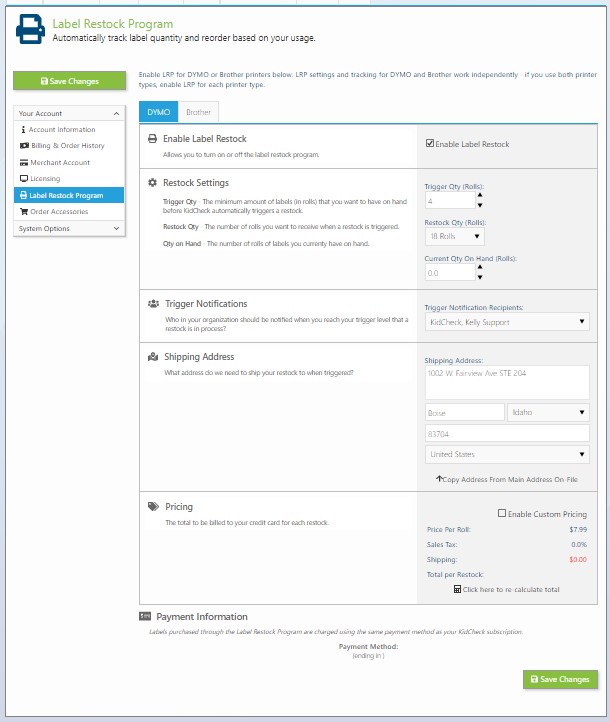 When you reach your trigger quantity, you'll receive an email notifying that your label supply is running low. You have up to 48 hours to respond if you don't need the order- otherwise, KidCheck will ship you your restock quantity and charge the card on file.