12 Outreach Ideas for Fall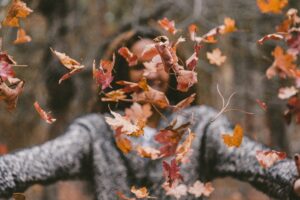 Fall is a great time to ramp up your outreach and work on building your local community. Shorter days, cooler weather, the delicious smells of fall, and the changing colors draw people outside. Experts believe fall has unique qualities that increase people's excitement and willingness to try new activities, making it the perfect time to reach out to new families.
Here are twelve ideas to get you started.
Send a Postcard. It's an inexpensive way to say hello to your neighbors, let them know you care, and get your church's name and children's ministry contact details, along with a teaser about upcoming events into their hands. Printing extra copies and having attending families share them in their neighborhoods, at sporting events, schools, and extracurricular activities is also helpful.
Encourage 1 to 1 Connections. If you have a list of families in need of support for extenuating circumstances such as the death of a loved one, job loss, injury, sickness, new baby, or a disaster such as a flood, or fire; try and match them with a family that can offer support and help connect them to community resources. This can build lifelong bonds and encourage others to give back once their situation has passed.
Deliver homemade treats. Who doesn't love a yummy fall treat? Fall food is always a favorite. Pumpkin cookies, breads, and cupcakes are all easy to deliver to new families, senior care centers, teachers, first responders, coaches, or anyone in your community who would love to be thought of.
Adopt a Senior Care Center. This activity can also be listed under community service, highlighted below. It's an excellent opportunity to touch the lives of local seniors by bringing treats, having the children perform a concert, and having monthly family game nights.
Offer Your Extra Space. Make your unused indoor or outdoor space available to other groups, organizations, or ministries that need to meet. This includes classrooms, meeting areas, playgrounds, gymnasiums, or other free spaces on your campus.
Host a Flag Football Tournament. Fall is synonymous with football, and your families will love a little time on the gridiron. If you don't have the outdoor space available on campus, consider a community park. You can promote to local neighbors, through social media, postcards, and family outreach.
Tailgate. This event goes nicely with hosting a flag football tournament and can be done in your parking lot or at a community park. If you are not hosting a tournament, consider throwing a tailgate party at a local high school or community college game. Offer raffle items, themed prizes, grilled hamburgers & hot dogs, and other fall-appropriate goodies.
Sponsor a Family Swap Meet. This is another great event option to hold on your campus and can be held in the parking lot. It should focus on items and services that families need and use, such as kid's clothes, unused toys, bikes, puzzles, books, games, or music. You can promote through local vendors that serve families and invite food trucks for additional advertising.
Offer Community Service. Assist vulnerable parts of your community by asking families to participate in projects such as rake-up events, paint-the-town, helping at the local or onsite food bank, or any activity that gets families working together to help a neighbor in need.
Support Local Educators. This outreach activity could also fall under community service and includes fundraising for school supplies, classroom needs, field trips, and teacher resources. You could also host a breakfast, lunch, or even dinner for a night when teachers work late.
Start a Pen Pal Program. It creates connections for people and offers new perspectives about life, cultures, and being a family. Writing or sending an email regularly to someone local, national, or in another country provides a new way to see other people's lives. There are countless ways to create a Pen Pal program. You are only limited by your imagination. Consider pairing families with a local senior center, foreign exchange students, refugees new to your area, missionary families, military personnel, or veterans you support. This outreach tool has no limits.
Sponsor a Movie Night. With shorter days and cooler nights, offering a movie outdoors is an excellent idea to bring people in your community together. You can feature a family-friendly film and encourage families to bring blankets, lawn furniture, and a picnic dinner. You could use a local park or school if you don't have enough outdoor space at your facility.
Making it Happen
 For most outreach activities, you will need a strategy to recruit, efficiently manage, and provide the best possible experience for volunteers. To help, KidCheck offers a volunteer scheduling tool that saves time, reduces manual processes, and simplifies scheduling.
Outreach is more successful with follow-up, so make sure to collect people's contact information or let families know they can create a KidCheck account to receive communications about future events. However, the process looks for your organization, make sure to hold to your commitments. You will gain a family's trust and increase their interest in returning by continuing to make contact.
Click here to sign up for a free KidCheck secure children's check-in demo to learn how check-in can support your fall outreach activities. Subscribe to the KidCheck Blog or join us on YouTube, Twitter, Facebook, Pinterest, and Instagram.
Photo by Jakob Owens on Unsplash