Building Your Organization's Culture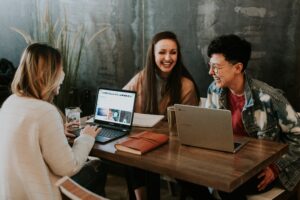 According to greatplacetowork.com, a culture is defined as how the organization gets things done and includes informal and formal systems, behaviors, and values. As a result, culture impacts everything from strategic decisions to frontline procedures.
Quantum Workplace states that 66% of leaders believe culture is more important than a strategy or the operations model. In addition, many say their organization and culture have changed over the last two years. Most leaders agree that a strong culture directly influences success, yet many struggle to define their culture. This lack of clarity can make it difficult to make positive changes.
So how does your organization address culture? As a leader, taking the time to evaluate and reconsider the role culture plays will directly impact and help shape future success. Quantum Workplace states that these top five actions are the most important for influencing day-to-day operations.
Decision Making – Refers to the process of choice. First, you identify the goal, gather information, consider the consequences, identify alternatives, and decide.
Communication – This describes the process of ensuring information is received and understood. The process includes sharing ideas, opinions, knowledge, and data with acceptance and purpose.
Celebration – Covers how your organization celebrates both personal and business wins.
Behavior – This indicates the process by which a leader guides, directs, and influences others in the organization to meet specific needs.
Rewards & Recognition – Calls out how staff, volunteers, and leadership will be rewarded and recognized for their accomplishments.
While all processes are important, staff recognize the following three as the most influential aspects of building culture.
Mission & Value Statement – 54% recognize this as most important. Staff and volunteers evaluate if the organization aligns with its mission or value statement.
Recognition – 53% of people experience a positive culture through seeing individuals and teams recognized for their contribution and success.
Performance Management – 50% value a commitment to performance management and believe it positively influences culture, commitment, and dependability.
Dedication & Retention
Research indicates that personnel who are engaged and part of a strong culture are more productive, retained longer, and become an example for others.
According to lumapps, staff engagement has a significant impact on culture. It refers to the learning and development process for the organization and its staff and significantly contributes to overall success.
Environments Where Cultures Thrive
Here are a few of the descriptive words that Quantum Workplace calls out that people use to describe a strong culture.
Flexible               Impactful
Supportive         Fun
Caring                 Positive
Inclusive            Collaborative
Your environment should reflect what everyone values at all levels to build culture. For consistency, ask for feedback, include leadership, and share with peers what is being done in your area to contribute to a meaningful culture.
Click here and join us for a free product demo and learn more about the benefits of using secure children's check-in. Subscribe to the KidCheck Blog or join us on YouTube, Twitter, Facebook, Pinterest, and Instagram.
Photo by Brooke Cagle on Unsplash