KidCheck Feature of the Month – Reports!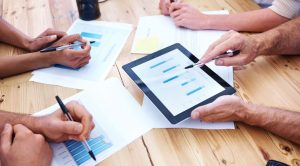 One of the key benefits of using KidCheck secure children's check-in system is the accessibility you have to your data. KidCheck offers over 45 different features within their check-in solution, but one of the most compelling is the Comprehensive Reports Library. Easy-to-use reports, across a variety of key topics, provide essential information about families, visitors, and trends, which helps with timely decisions.
Data Your Way
KidCheck's comprehensive reports library includes overall statistics, graphical charts, various attendance reports, check-in logs, roster reports, bulk mail capabilities, billing reports, medical and allergy reports and much more!
If more flexibility is required to meet your data reporting and analysis needs, KidCheck offers the Custom Reports Builder. The Custom Reports Builder is as simple as choosing a report type, data range, and the associated dimensions. Each report can then be filtered, saved, and exported into a pdf or CSV file, ensuring the data you collect will meet your needs.
New to Reports
We're excited to "report" these new updates to the KidCheck Reports Library.
Visitor Check-In Report now captures birthdate. Useful information to have for follow up and outreach.
Check-In Roster now includes security codes. A sensible way to improve child safety.
New! Attendance Weekly Report, which provides a quick snapshot of the weekly count of check-ins by template and location. Developed based on customer feedback!
Most Popular Reports
Data is imperative to gather more insight and improve outreach, and we understand the importance of having a wide variety of reports available. Some of the most popular KidCheck reports include:
Attendance MIA Report – View an absent/present chart which tells who's been attending most regularly or who's been absent. It's great for youth groups, and staff can utilize it to reach out to families who've been missed.
Birthday Report – includes addresses for mailing labels so you can send out birthday cards, which always makes people feel important.
General Attendance Report – has many options to structure your data based on your templates and location. There's a multitude of information such as which children are checked in to a specific classroom, or the number of families that checked-in last Christmas.
Features, Software Editions, and Pricing
Click here for details on additional KidCheck features and the specifics on Children's Check-In Software Editions. Whether you're a nonprofit or business organization, KidCheck pricing is flexible to meet your needs and based on the feature set and the number of check-in stations you choose.