Custom Reports
Note: Data in custom reports syncs nightly so you will not be able to see the current day's data. When you generate a custom report, your newest data will be from the previous day.
Building a Custom Report
Navigate to the Custom Reports tab (Reports > Custom Reports).
Select +Add a New Custom Report under Page Options on the left.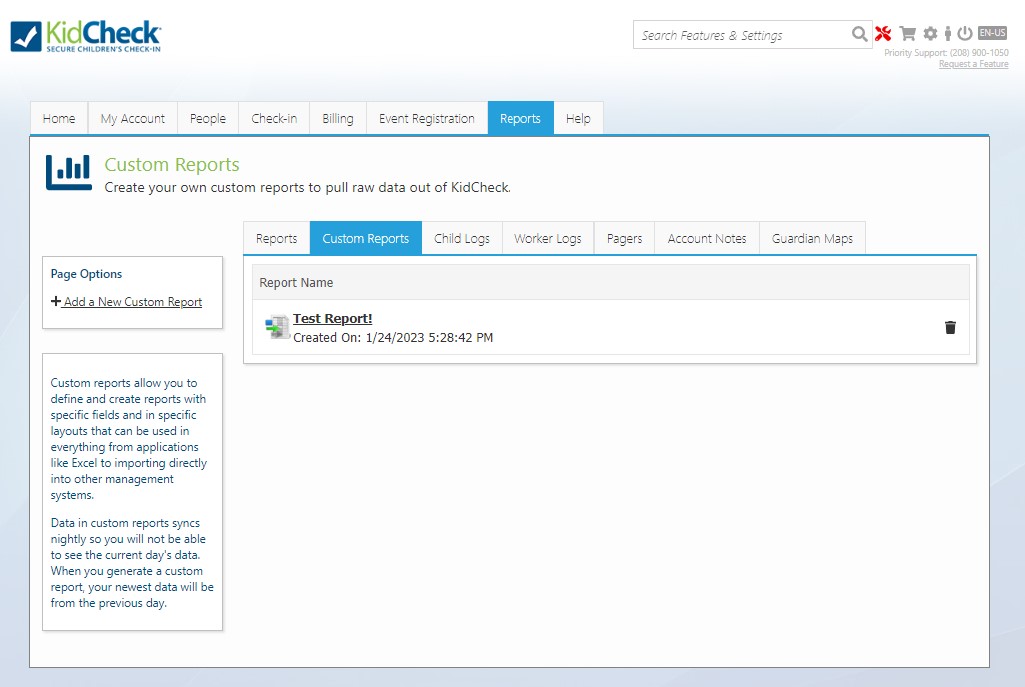 7-5
Under Step 1 of the Report Builder, select the type of report you'd like to build.
Under Step 2 of the Report Builder, select your date range.

Note: You can also use dates relative to the current date, such as the last week by selecting "Time from today's date."

In Step 3 of the Report Builder, select the desired columns to include in your report under each category.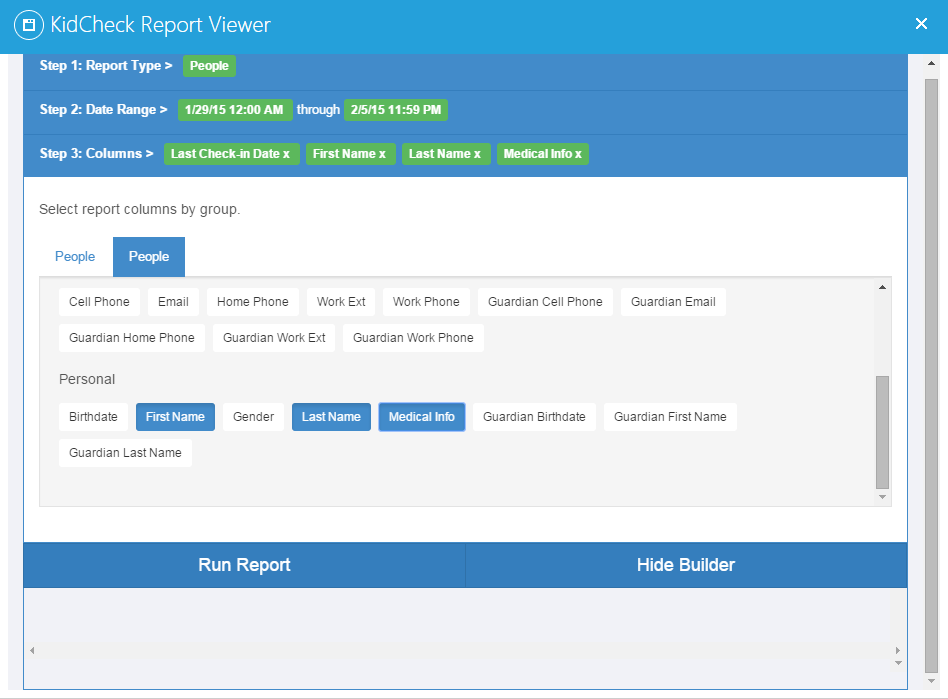 Select Run Report.
Once the Report Generates
Select any column header to sort by that column. Filter columns by typing a phrase in the column header. Drag and drop columns to change their display order.
To print or export the report: Select Export on a generated report, select pdf (great for printing) or csv (great for further data manipulation in Excel). Select Submit to complete the requested download.
 You can save and name a report to come back to with your pre-chosen settings by selecting the Save button, selecting Save As, naming the report, and Confirming your save.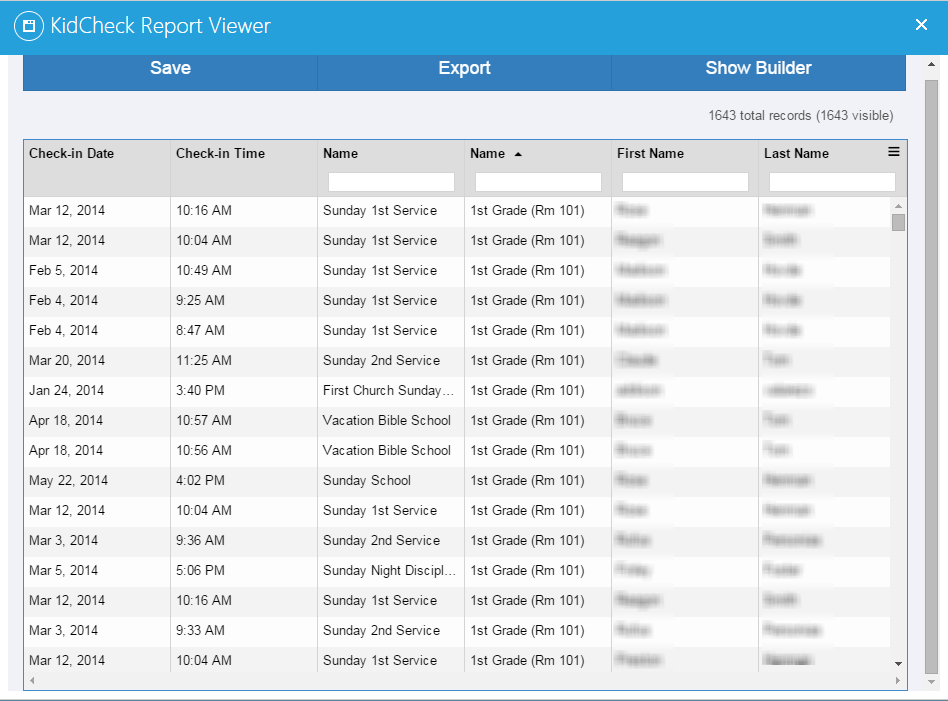 Generating a Sample Report
To give a specific example, if you want to know all the children that attended your Wednesday evening program last week so you can contact their parents about an inhaler left after your program, simply generate a report to get that info for you.
In this case, choose an Attendance report in Step 1. Select your desired date in Step 2. In Step 3, Under Attendance, choose Last Check-in Date and under People choose Guardian Cell Phone, First Name, Last Name, Medical Info, Guardian First Name, and Guardian Last Name.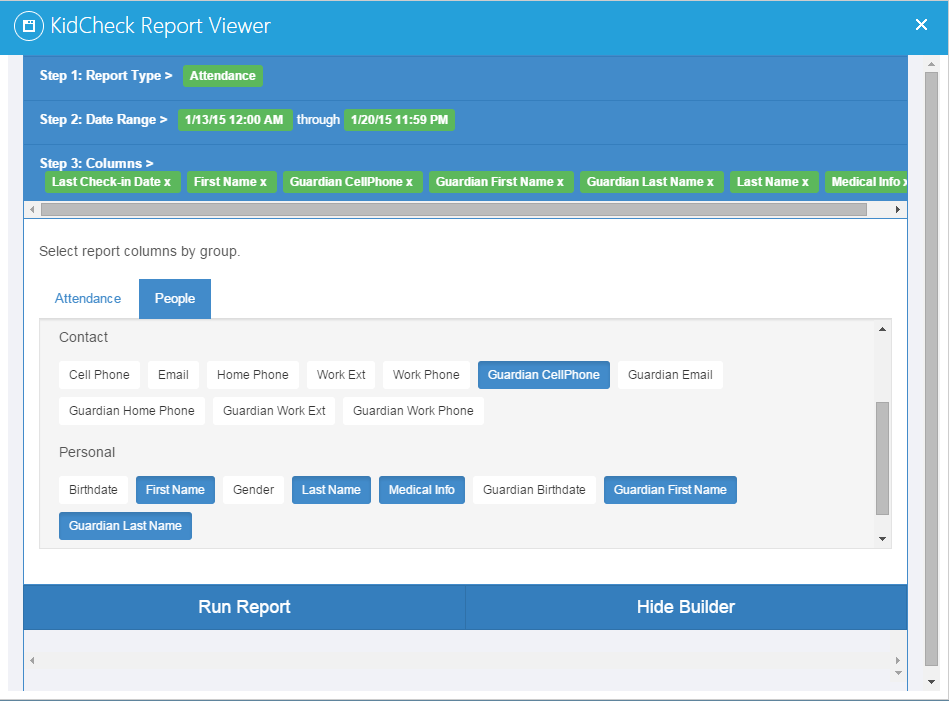 From there you can rearrange columns and click on the Medical Info column to sort by the Medical Info or even filter by a specific allergy (e.g. asthma).
Additional Resources:
A video tutorial of creating a custom report to display event registration information can be viewed here.