KidCheck Leads Child Safety Workshop at Kidmin Nation Mega-Con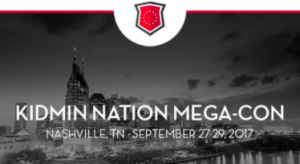 Mega-Con is a new three-day, children's ministry conference that seeks to bring kidmin organizations from around the world into the future.  It's promised to be a high-energy event founded by Ryan Frank. Ryan is a pastor, publisher, and entrepreneur who does a lot of speaking, writing, coaching, and various other fun activities.
One of the main goals for Mega-Con is to bring children's pastors, ministry thought-leaders, and influencers, together for a power-packed time of worship, creative learning, and sharing of ideas about the latest innovations in children's ministry.
KidCheck is honored to be leading one of the conference workshops. KidCheck's child safety workshop is designed to provide insight on the leading concerns around child security and safety. It is led by Alex Smith, CEO of KidCheck, and Angela Lewton, KidCheck's child safety expert. The workshop delivers useful, actionable ideas and best practices to help churches create a safe environment for the children in their care and minimize any possible safety and security issues.
"Workshop participants will learn about improving child safety with a discussion on being prepared in case of emergency (medical, evacuation, etc), better utilizing a security team, recognizing and deterring predators, securing their facility, important volunteer policies, and more," said Alex Smith, KidCheck CEO.
"KidCheck is excited to be involved with the KidMin Nation Conference," continues Smith. "Keeping children safe is a priority for every ministry, and we are looking forward to sharing new ideas and best practices with churches to help the increase overall security in their children's ministry."
If you're interested in attending Mega-Con there's still time to register! Click here for details.