National Child Abuse Prevention Month Safety Resources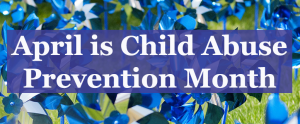 National Child Abuse Prevention Month is wrapping up for 2019. This year, the national focus was on how to create "Strong and Thriving Families" by ensuring the safety, permanency, and well-being of our nation's children.
During April, many individuals and organizations recognize the importance of communities coming together to promote the well-being of children and families by preventing neglect and identifying child abuse.
For KidCheck, it's an opportunity to raise awareness, provide resources, and encourage our community of child-focused organizations to get involved and utilize strategies to identify, prevent, and respond to neglect and abuse within their sphere of influence all year long.
Here are some resources to help organizations focus on safety:
For more safety resources join our growing social community, you can find us on Twitter, Facebook, Instagram, and Pinterest.
Click here to learn more about the benefits of secure children's check-in and how it can help your organization attract new families, improve child safety, balance workload, and free you up to do what matters most – connect with families!