New KidCheck Updates and Tools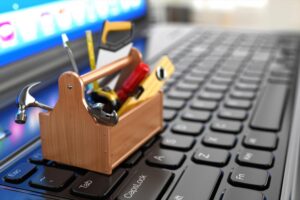 We're always looking at how we can improve KidCheck and deliver the best children's check-in system. Sometimes that means adding big new features such as Roster Check-In, touchless Express Check-In and Check-in Surveys.
Other times it means tweaking the smaller things, adding tools, making things faster and easier. Here are some recent updates and tools KidCheck has implemented. We hope you find them helpful.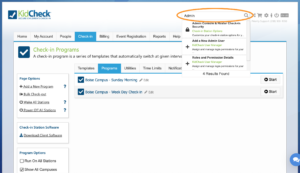 KidCheck Search Tool
With the new search tool in KidCheck you can quickly and easily find what you need and get to the exact place in KidCheck you are looking for. Simply type a key word(s) into the search bar at the top right of the screen and receive options directing you to the associated places in KidCheck. We built the search tool as an additional way to support you and make KidCheck easier and more intuitive to use. Happy searching and finding!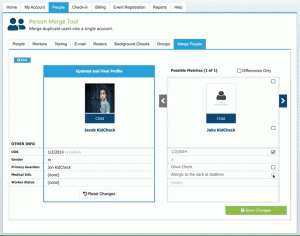 Person Merge Tool
You can now merge duplicate accounts in KidCheck. Did someone make two family accounts by mistake… again? Use the Person Merge Tool to quickly and easily merge those pesky duplicate users into one. You choose which data to keep from each person being merged. No need to contact us, you've got it covered. Now, if we could just figure out how to get people to stop making more than one account.
Check-In Station Usage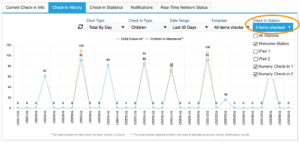 It's important to know how many check-ins you've had in total. KidCheck has always provided an at-a-glance graph to view this data by day, week, month, etc. However, that only provides part of the picture. What if you want to know which station is busiest? Is it the iPad in the north entrance or the computer check-in in the foyer? Perhaps you've implemented Express Check-In and want to view the KidCheck ExpressHub to see how well it's working and how many families are checking in from their smartphone without having to wait in a line. Now you can do just that. Look at check-ins overall and also see data by station. Simply go to the Check-In History tab in your KidCheck account and under Check-In Station filter by one or more of your stations.
Here's to small but mighty updates and tools!
To learn more about the benefits of using secure children's check-in, click here to sign up for a free online demonstration.