October is National Bullying Prevention Month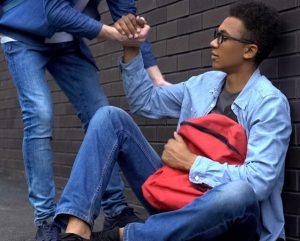 October is National Bullying Prevention Month™, and it's important to acknowledge the issue of bullying and put forth an effort to prevent it and support the kids and youth in your program. By participating, children and families will feel safer, know that everyone is in it together, and set the tone for prevention all year long.
October may be National Bullying Prevention Month, but new beginnings and friendships can happen any time, and how you approach bullying will set the tone for the future. Bullying comes in various forms such as physical, cultural, verbal, emotional, sexual, and cyberbullying, none of which are acceptable. National statistics indicate that it is on the rise with effects that can follow children into adulthood. However, one person alone cannot stop the problem. Bringing together kids, youth, parents, teachers, guardians, leadership, staff, and volunteers is a smart strategy for prevention.
How can organizations that serve kids and youth participate? To begin, work to foster an environment that encourages transparency and prioritizes communication. Next, empower kids and youth to respect and support each other and involve parents, teachers, leaders, and volunteers.
Here are a few ways to join National Bullying Prevention Month:
Educate – It's essential that parents, staff, leadership, and volunteers understand bullying and how to confront it. With October being the national prevention month, it is the perfect time to share the latest stats (see resource links below), encourage family or guardian discussion, and highlight stories of those who have endured being bullied and overcome it. This can be done through social media, monthly newsletters, presentations, and outreach.
Reach Out – Encourage kids and youth to connect with others who are new to the program. There is strength in numbers, and promoting new friendships will minimize the struggle of those who are new and trying to fit in.
Report – Reporting bullying is essential to emphasizing transparency and communication. You can not be everywhere at once, so encouraging everyone when they see something to say something helps reduce the number of kids who might be suffering in silence.
Reward – Individuals who demonstrate respect for others and work at being inclusive deserve recognition and reward. Accolades could include a special award, a mention in communications, small gift certificates, logoed merchandise, extra free time, whatever works to incent the behavior.
Resource Links
Here are some additional links and resources if you are interested in learning more about how bullying is defined, National Bullying Prevention Month, current statistics, and what you can do to prevent bullying in your organization.
For more safety information, Join our growing social community. You can subscribe to the KidCheck Blog or find us on  YouTube, Twitter, Facebook, Pinterest, and Instagram.
Click here to learn more about the benefits of secure children's check-in and how it can help your organization attract new families, improve child safety, and balance workload.