The KidCheck All-in-One Check-In Station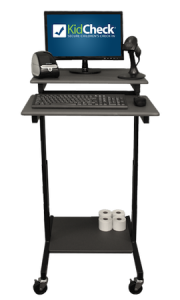 The KidCheck store is an online marketplace that offers everything you need for secure children's check-in at reasonable prices accompanied by excellent service! Our goal is to get you up and running fast, and part of that means providing the equipment, supplies, and services needed before, during, and after getting started with KidCheck all in one place.  
One of the most popular options is the KidCheck Check-In Station. The KidCheck Check-In Station offers a functional, simple, full-featured hardware solution. Designed by experts at KidCheck, this package provides all the items needed for check-in, including a computer. *Software subscription not included.
The Check-In Station package includes:
An ASUS mini PC pre-loaded with check-in software and drivers

Visit the store to see the baseline configuration.

20" LCD monitor – upgrade to 21.5" available
Wireless keyboard and mouse, label printer and four-pack of labels
Optional add-ons include:
Click here for more details on the KidCheck Check-In Station. In addition, to complete check-in stations, the KidCheck store provides supplies such as printers, scanners, key tags, labels/name badges, cleaning supplies, parts, and services.
Keep up to date with the latest KidCheck news and announcements by subscribing to the blog or join our growing social community on Twitter, Facebook, Instagram, or Pinterest.