Creating an Anti-Bullying Program: The Components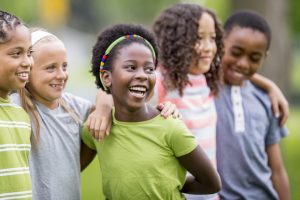 This is the first post in the series on Creating an Anti-Bullying Program. The series focuses on the components, the framework, and the implementation of a new anti-bullying program.
Bullying comes in various forms: physical, cultural, verbal, emotional, sexual, and cyberbullying. Stopbullying.gov shares that nationwide, 20% of kids ages 12-18 experienced some form of bullying in the last year. Cyberbullying had the most significant increase at 21% overall. Regardless of socioeconomic factors or whether kids attend a public or private school, church, ministry, camp, sports, daycare, or after-school program, bullying happens with effects that can follow a child into adulthood.
One person alone cannot stop the problem. Bringing together kids, youth, parents, teachers, guardians, leadership, staff, and volunteers is a smart strategy for prevention. That's why it's an excellent time to consider an anti-bullying program that fits within your Child Protection Policy.
By including bullying prevention, your organization will foster an environment that encourages transparency, prioritizes communication, and empowers kids and youth to respect and support each other.
In the series, we will discuss which elements to include when designing and implementing an anti-bullying program. You can purchase a completed one, which is quicker, but also costly and won't consider the nuances of your organization. Whichever direction you choose, it's a good idea to have a clear picture of what constitutes an effective program.
Here are several necessary components of an effective anti-bullying program.
A framework that incorporates policies, procedures, prevention, and intervention strategies which are child and youth-focused. Actions speak louder than words, and kids should see staff, volunteers, and leadership demonstrating the prevention principles every day.
Training materials that are age-appropriate, with a portion being parent-directed. This ensures conversation can continue at home and works to address any unforeseen issues.
A plan that is easy to implement across your organization and beyond. You'll want all hands on deck for implementation, including staff, leaders, families, and volunteers.
It should empower kids and youth to act if they see someone being bullied. Actions include incident reporting, standing up for one another, or befriending kids who are targets. In addition, bullied kids need to feel empowered to share information and have additional strategies available for resolution. We refer to this as a Speak-Up Culture.
Flexible policies and procedures that grow with your organization. Where you start may not be where you end. Organizations grow and change each year. So you'll want a program that can adapt to the evolving needs.
Elements to reward and celebrate kids and youth for promoting an anti-bullying environment in your organization. Success should be celebrated and shared.
The second post in the series will share how to create the framework. This will include a definition of your program, why you are creating one, and how you intend to accomplish your goals. It will also touch on the benefits of utilizing a committee versus going it alone and the factors necessary to track and manage performance.
To learn more about improving child safety, additional security tips, and best practices, subscribe to the KidCheck blog or connect with us on YouTube, Twitter, Facebook, Pinterest, and Instagram.