Preparing Youth If Disaster Strikes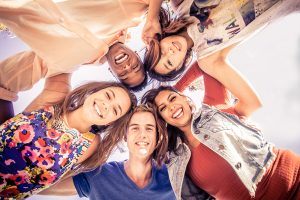 During a disaster, everyone has a role to play, including the youth. Today's youth often have a passion for serving their communities, and learning how to prepare for a disaster is an excellent way for them to get involved. Current FEMA research indicates it's essential that additional action be taken to prepare children and youth, so they know what to do in the event of an emergency, regardless of size and magnitude of the disaster.
If you're an organization that serves youth, there's never been a better time to get them involved. Here are five action steps to leverage your organization's youth to help during times of disaster.
Ask for youth volunteers from those who frequently attend your program.
Include teen volunteers on your disaster response team.
Prioritize and include teen volunteers in training alongside other adult team members.
Task youth volunteers to help build your disaster kits and emergency instructions flip books, identify items you may have overlooked, create a phone tree or social media plan for communication with families. There are always lots of small but essential tasks to plug them into while preparing a response.
Invite youth volunteers to share what they are learning in their disaster training with friends, family, and other organizations where they are involved. Young people are a fantastic resource for getting important information out.
Youth consistently exposed to preparedness education, coupled with home and community programs, are significantly more knowledgeable and better able to deal with a disaster than those who have sporadically received information.
By including youth on your disaster response team, you help create a realistic view of what a disaster would look like and provide an opportunity for them to be more civic-minded and have a sense of responsibility for people in their community.
Here are some additional resource links to get the youth involved.
Youth Preparedness Council – https://www.ready.gov/kids/youth-preparedness-council
Build a Kit – https://www.ready.gov/kids/family-emergency-planning/build-a-kit
For additional safety information and free downloads, visit our safety resource page, subscribe to the KidCheck blog, or connect with us on Twitter, Facebook, Instagram, Pinterest, or YouTube Channel.