New Check Out Receipt Texts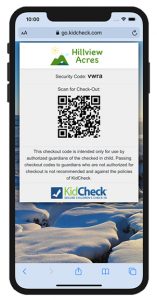 The check-out process is just as important as check-in. Verifying that the person picking up the children in your care is authorized to do so is a must. Multiple check-out options are available, including visual verification of a printed guardian receipt, using the admin console or admin console app, or the electronic guardian receipt in the KidCheck app.
Now there's another option for check-out. Introducing the new Check Out Receipt Texts. It's convenient, fast, secure, and perfect for today's mobile lifestyle.
Here's how it works: When a child is checked in, the parent/guardian will automatically receive a text with a link to a unique digital check-out receipt and QR code. At check-out, you simply scan the code from their phone with a 2D barcode scanner. Done! If preferred, instead of or in addition to scanning, you could also do a visual verification of the security codes.
As most people always have their smartphone with them, the guardian check-out information is readily available. Plus, it remains secure since each Check Out Receipt Text, which has a unique security code for that family's check-in, is only accessible on the authorized guardian's phone.  If someone else is picking up the child, they too can receive a text with the link to the digital check-out receipt.
Learn more about the Check Out Receipt Texts option.
Click here to learn about the benefits of secure children's check-in. For more safety tips, best practices, and original content join our growing social community. You can find us on Twitter, Facebook, Pinterest, and Instagram.