KidCheck Electronic Guardian Receipt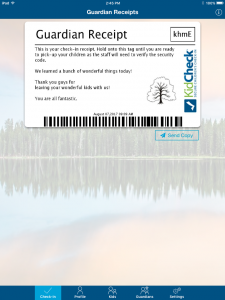 The KidCheck guardian receipt is an important feature in maintaining a safe and secure check-out process. Recently, KidCheck added a cool, new improvement to the guardian receipt. It's now also available electronically on the guardian's mobile device in the KidCheck mobile app.
When a child is checked into KidCheck, a name badge is generated for each child, along with a guardian receipt with unique matching security codes. Traditionally, the guardian who checked the child in keeps the receipt, and uses it later to securely retrieve the child. Guardian receipts contain no personal information regarding the child. This ensures that if a receipt is misplaced and discovered by someone else, there's no immediate threat of the child being picked up by someone who is unauthorized.
With this latest enhancement, the guardian receipt is now available electronically through the KidCheck mobile app. This means each time a check-in is processed via a station, tablet, or through Express Check-In, if the parent/guardian has downloaded the KidCheck app, the guardian receipt will be available on their personal mobile device.
The electronic guardian receipts are available to check-in guardian and a designated pickup guardian, making it more convenient if one guardian is dropping off and another is picking up. Both now have the receipt on their devices, eliminating the need to "transfer" the printed receipt or print another one altogether. Plus, in case of a lost receipt, this is a great backup option to have it electronically on a device.
Overall, this enhancement with the guardian receipt increases efficiency, provides added security, and allows parents to digitally manage check-in details during busy times. The receipt on the app will automatically disappear at midnight on the day of check-in.
Mobile check-in has many benefits and provides a better overall check-in experience and Express Check-In allows guardians to use their smartphone to check-in rather than a computer check-in station. You can download the KidCheck app from the Apple App Store or Google Play Store.
Click here to learn more about the benefits of using secure child check-in or visit our website to schedule a free, personalized demo.