Essential Communication Guidelines from Plan to Protect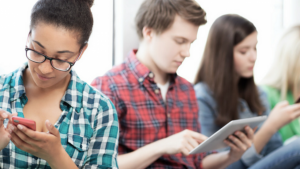 With child and youth-focused organizations in various phases of reopening during COVID-19, a few trends remain consistent, such as the ongoing rise in the use of technology and social media for communication with families, staff, and volunteers. This trend directly correlates to an increase in risk and liability for your organization and highlights the need for additional policy modifications for communication.
How best does an organization answer the question of what it looks like to safely manage digital correspondence in today's hyper-mobile environment, while still leveraging the benefits of online communication?
This week we're sharing seven essential communication guidelines to consider when updating your policies from our friends at Plan to Protect. The original post can be read in full on the Plan to Protect blog.
Plan to Protect is a premier training organization that prioritizes abuse prevention and vulnerable sector protection. They excel at equipping teams with effective and customized policies, procedures, and training to increase safety and protect our community's most vulnerable. Click here to learn more about Plan to Protect programs and their award-winning team.
Seven Essential Communication Guidelines
Communication should only be done with a parent and program leader's knowledge and written approval.
Communication should focus on the exchange of relevant information and not for relationship building. For example; Where is the event? What is the start time of a program? What should I bring? Etc.
Stick to communicating only during daylight hours. For example, between the hours of 8:00 am and 10:00 pm and avoid school hours.
Communicate in the safest way possible, avoiding the use of video, webcam,
or photos.
Always be in view of others. For example, copying someone on an email, utilizing the Rule of Two's, or interacting in group settings.
Do not communicate with minors under the age of 12, unless the parent/guardian and program lead are copied on the communication.
Never participate in private text messaging, instant messaging, or communication that can't be viewed by others. There are various messaging services available that provide oversight for online communication.
Plan to Protect also called out some immediate steps to be taken when a staff member or volunteer's conversation moves beyond the recommended guidelines. These steps include.
Immediately stop all communication.
Directly notify the program lead of the issue in writing.
Submit a copy of the conversation in question to the program lead.
Resume the conversation in a safe way that adheres to the guidelines in a professional setting.
Sharing information is vitally important to the organizations, families, and internal groups you support, especially during times of uncertainty or crisis. By establishing clear, concise guidelines for communication, you're letting staff and volunteers know that you are here to help navigate the ever-changing landscape of digital communication.
Click here to schedule a free, personalized product demo to see firsthand the benefits of your organization using secure children's check-in.