COVID-19 COMMUNICATION PLAN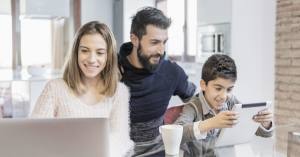 Many child and youth-focused organizations are in various phases of COVID-19. In these uncertain times connecting with families and providing a clear crisis communication plan are vital.
Here are eight communication fundamentals for sharing information during a crisis, to help you create an effective communication plan for the families you serve and the internal groups you support.
1. Share your mission
Your organization's guiding principles and mission statement are valuable communication tools during times of crisis and uncertainty. Both should be used to inform families of how and what action you intend to take in the present and the future.
Research has shown organizations that are closely connected with their members have better retention and success. During a time of crisis is not the time for growth, but rather a time to come alongside your members with the information they need to make ongoing decisions.
Prioritize the information that is relevant, timely, and specific to what families need, and you'll gain a patron for life.
2. Using the right tone
Tone is important because you can have the most thorough, well-thought-out, and timely information, but if it's communicated without empathy, or the needed support that fits the context, it will fall flat and possibly do the opposite of what you intended.
During times of uncertainty and crisis like COVID-19, it's crucial to share using a concerned and calm tone that reassures families you hear them and are adjusting with their needs in mind. A We're all in this together" message that conveys the children or youth are a top priority goes a long way.
3. Be clear
To provide information that resonates with families, communication must be to-the-point, clear, and cut through the noise. Keep in mind families are inundated with hundreds of messages a day about COVID-19 safety, prevention, restrictions, and other important life stuff, which often causes information overload or issue fatigue.
The focus should be on eliminating extraneous information which causes message fatigue and instead promote communicating with clarity, transparency, and speed. Things like an email headline, a text, social post, or voice mail should immediately convey the point of your communication and eliminate anything that doesn't align with it.
Your communication goals should include letting families know your organization is supporting them, how you are doing it, and what information they need to have to make decisions or act. Lastly, make sure to provide as many resources as you can to help them navigate a changing landscape.
4. Be transparent
Organizations have the responsibility to be transparent with their families and communicate the action being taken to keep kids and youth safe. For initiatives such as ongoing germ management, it's important to emphasize the details of what you've put in place.
Are you offering touchless check-in for children? Do you have a new drop off and pick up processes they must follow? What types of health practices are in place for volunteers and staff? Which locations are open? New hours of operation? A COVID-19 resource page? Be clear, and don't just tell families germ management is important – demonstrate it.
5. Deliver timely updates
When and how you communicate with families is just as important as what you're sharing during times of crisis. Whether you're using an email list, a social media channel, group texts, or phone calls, consistency is key.
COVID-19 updates release fast, change often, and repeatedly leave families wondering what they should do and where they can turn. So being timely with your communication is essential to building trust and keeping families engaged.
Don't delay the process of communication, waiting for it to become more current. For example, if you're not offering child or youth-related services until further notice, let families know right away; or if you're going to provide a soft opening with delayed services, communicate it immediately.
6. Review and revise event messaging and service offerings
Returning families understand it's not business as usual, so it's important to review and revise the messaging around upcoming events, summer programs, outreaches, or workshops to positively reflect the current situation.
Organizations can sometimes forget about previously scheduled communications for upcoming events.  If they are no longer applicable but still sent, it can make your organization appear disconnected from the current situation or crisis. Examples might be advertising for a VBS or summer youth camp attendance when it's canceled, or you need to limit participation due to capacity management. Messaging should reflect the current situation.
7. Offer support to volunteers, staff, and leadership
Crisis communication is just as important for internal team members and these same principles apply.
During a crisis, people are concerned about job security, organizational recovery, leadership changes, and returning volunteer opportunities. It's okay not to have all the answers to every question right now, but it's not ok to stop communicating.
Assurance starts with letting your teams know where you're at, and what's in and out of your control. If changes are going to happen, such as an extended period of closure due to regulations from the state, or federal government, job impact, or salary reduction, it's essential to be transparent and share the details of what you know. Your team needs to know you're empathetic to their situation and that you view it as we're all in this together.
8. Prepare to pivot
As the COVID-19 situation continues, it's impossible to predict what's next in the coming days. However, being ready for change is essential to keep both families, and your ancillary groups informed. People within your sphere of influence are looking for guidance. It's important to remember as a leader being adaptable and emphatic are great ways to offer support.
A crisis can happen at any time, and how you communicate during this time will make the difference between success and failure.
Click here to receive additional information on COVID-19 resources by subscribing to the KidCheck blog or join our growing social community on Facebook, Twitter, Instagram, and Pinterest.
Click here to schedule a free, personalized product demo to see firsthand the benefits of your organization using secure children's check-in.