20 Exit Interview Questions for Feedback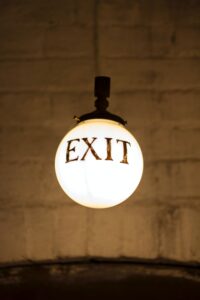 Volunteers and committed staff make a difference in the performance of your organization. Aristotle once said, "The essence of life is serving others and doing good". In fact, many organizations cannot carry out their mission without committed volunteers and long-term staff. Recently, VolunteerHub shared that volunteers are worth $28.54 an hour on average. This equates to a total value of over $184 billion in labor each year.
On the flip side, the national average for the volunteer-retention rate is 65%. Meaning 1 out of 3 volunteers will quit within the first year. In addition, Quantum Workplace found that 63% of employees are looking for new opportunities. With people transitioning to other prospects, it presents an opportunity for organizations to take a deeper look at what's working and what needs to be improved. By asking the right exit questions, you can unlock a treasure trove of information that can help improve retention, develop better training initiatives, and possibly improve morale.
When volunteers or staff move on, they have nothing to lose or gain and may be more likely to be forthcoming than those still active in their roles. Plus, an exit interview provides people a chance to give constructive feedback and depart on good terms. Best of all, it allows for a candid assessment of your organization.
Here are twenty exit interview questions to gain insight.
Why are you leaving?
What influenced your decision the most to leave?
Were you given clear goals and objectives for your role?
What could we have done better as an organization?
Did you feel equipped and have what you needed to be successful?
Was child safety information presented consistently and clearly?
How would you describe the culture of our organization?
If you could have changed one thing during your time with us, what would it be?
Were you adequately trained for your role?
How can we improve training and development? Examples?
Were the child safety processes and procedures understandable?
Did you feel valued?
Were you comfortable speaking with your team lead or manager?
Did you receive constructive feedback on your performance?
What are the top three qualities we should consider for your replacement?
What did you like best about your role?
What did you like the least about your role?
Would you recommend our organization to a friend or family member?
Did the schedule play a role in your decision to leave?
Do you have any final thoughts, issues, or suggestions you'd like to share?
You can use these questions to gain valuable insight before people leave and use the responses to help create a more transparent and open organization that prioritizes communication. Also, think about incorporating a few questions into performance reviews or one-on-one meetings with your volunteers. The point is to encourage dialogue and quickly identify issues or concerns before they arise.
Click here and join us for a free product demo and learn more about the benefits of using secure children's check-in. Subscribe to the KidCheck Blog or join us on YouTube, Twitter, Facebook, Pinterest, and Instagram.
Sources:
https://www.quantumworkplace.com/
Photo by Elliott Stallion on Unsplash