Four Factors to Have in Place When Reopening the Children's Area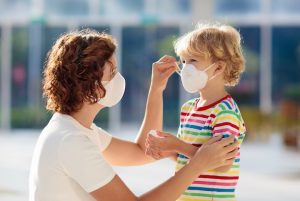 The return of gathering in person is gaining speed, and it's essential to think through what your strategy will look like when families begin to arrive after COVID-19. As we step into the new normal, some things might have changed, and it's important to recognize the impact on families and create a positive first impression to give them peace of mind. So, what are the key factors your organization needs to consider and have in place before you reopen?
Families will focus on getting through the initial drop off and pick up process quickly and minimizing germ exposure and social distance.  These concerns, coupled with your organization's ability to meet the recommended guidelines, will mean looking closely at your processes. Here are four factors that indicate you're close to or ready to reopen your children's area.
1. Drop off & Pick Up – This is the first process that puts families in direct contact with your organization. It's important to reduce contact, encourage social distancing, and reassure germ management. Consider permitting only one parent to drop off and pick up, which assists with minimizing direct exposure.
As one KidCheck customer explains, "Children's check-in is the front door to your organization and has a huge impact on the decision to return. Directors need to know that people don't typically return if they've had a bad check-in experience. It's a deal-breaker."
KidCheck offers several options to assist families in moving through the check-in and check-out process quickly and safely.  Features such as touchless check-in with Express, self check-In lists, and youth check-in badges are a good choice. Check-out options like digital guardian receipts, check-out receipts texts, and the Admin Console App ensure families have a safe and positive experience.
2. Classroom Support – If your organization depends on volunteers, it's crucial to consider reopening only after you have enough comprehensively screened staff and volunteers to support rooms being open. The screening process for those who work directly with children functions as a deterrent for would-be offenders to eliminate easy access to children and reveals need-to-know information about a person's history working with children.
Many states base their guidelines on age and suggest a gradual opening, beginning with the youngest rooms first. There also must be adequate staff/volunteers to be able to meet the bathroom requirements, which includes overseeing handwashing and, in some cases, may now only be one child at a time.
Classroom support also extends to the appropriate amount of supplies and materials, for things like sanitizing, deep cleaning, and thermometers for temperature screening. In addition, there must be enough gloves and masks for staff/volunteers to switch out between diapers changes, bathroom breaks, snack preparation, and serving, or any other interaction that requires it. You may consider eliminating snacks for a time to minimize the spread of germs.
3. Managing Capacity – This is a core element of reopening that provides a way to manage volume and set parameters for the number of children allowed for services or programs. This enables families to better plan for any changes that may occur. By using Event registration reservations and waitlists, you have a convenient way to reserve limited availability for classes and childcare. In addition, you may also share information such as the number of spots available, room changes, and check-in documents or links about your organization's new COVID-19 policy and procedures.
4.  Health Check – If you decide to complete a health check for prevention, it's best to ask health-related questions and take the child's temperature outside of the main entrance to the children's area before they enter. This confirms for families who are nervous about their children returning to a group setting that your organization is taking the appropriate steps to ensure the wellbeing and ongoing safety are a top priority.
Click here to schedule a demo and see first-hand the benefits of secure children's check-in for your organization. For more COVID-19 safety information, click here to subscribe to the KidCheck blog or join our growing social community on Facebook, Twitter, Instagram, and Pinterest.