Five Ways to Participate in National Child Abuse Prevention Month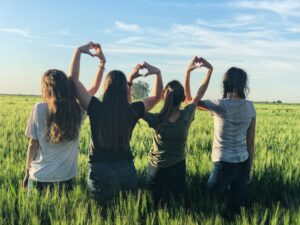 April is National Child Abuse Prevention Month (NCAPM). A time of year to focus on and recognize the importance of families and communities working together to prevent child abuse and neglect (maltreatment). Last week we covered Three Reasons to Participate and how good prevention programs are critical to our nation's child protection system.
Now that we've shared the "why" of participating, we want to discuss the "how" of getting involved.
NCAPM provides an abundance of opportunities for everyone to participate. All of April is dedicated to supporting children, working to strengthen families, and keeping kids safe. So, step out and become part of the solution. Here are five ways to contribute.
1. Educate– Both yourself and your organization. Learn to recognize signs of abuse. Implement strategies that minimize the opportunity for abuse. Understand what the landscape looks like and become familiar with some national statistics.
1 in 4 girls is sexually abused by the time they turn 18 years old.
1 in 5 boys is sexually abused by the time they turn 18 years old.
Five children die every day from child abuse.
The highest rate of child abuse is in children under one.
8% of all child fatalities were younger than three years old.
6% of child victims are maltreated by one or both parents.
 2. Volunteer– You can contribute significantly by giving time and effort. Attend local meetings such as city council, school boards, or parent education workshops. Express a desire to increase community support, develop education initiatives, and raise awareness for accessible services. You can volunteer in person or online and share information with family, neighbors, and others in your sphere of influence.
 3. Give Financially– If you cannot give your time, consider financially supporting organizations that actively work to reduce child abuse or initiatives that raise awareness and provide ongoing resources.
 4. Utilize Social Media– Many individuals and organizations are active on one or more social media channels. Use your platforms to get the word out. Share resources and help educate others.
 5. Wear Blue– During April, wear blue to let others know you support the prevention of child abuse and neglect and are committed to giving hope to children and families.
Please spread the word by sharing this information. Together we can make a difference in the life of a family.
For additional child safety resources or to join our growing social community, subscribe to the KidCheck Blog or join us on YouTube, Twitter, Facebook, Pinterest, and Instagram.
Click here to learn more about secure children's check-in benefits and how it can help your organization attract new families, improve child safety, balance workload, and free you up to do what matters most – connect with families!
Photo by Melissa Askew on Unsplash