KidCheck Now Offers Brother Printer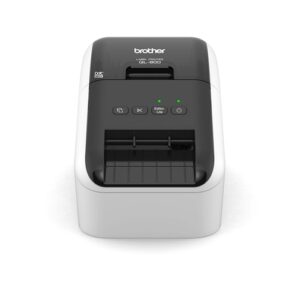 We are excited to announce that KidCheck is now compatible with and offering the Brother QL-800 Label Printer. The Brother QL-800 delivers great looking, high-speed, high-resolution printing. With direct thermal printing there's no ink or toner necessary. It prints pre-sized, easy-peel labels for child name badges and parent/guardian receipts. The printer also works with the KidCheck ExpressHub, for mobile printing or use with touchless Express Check-In, but it is not compatible with the prior generation PrintHub. The printer and labels (sold separately) are available for purchase on the KidCheck store. For your convenience, label package options include 4, 8, 18, and 36 packs at a great pricehttps://www.kidcheck.com/feature/express and with discounts on the larger 18 and 36 packs.
Unfortunately, Dymo has discontinued the DYMO LabelWriter 450 so that printer series is no longer available from them. However, we will continue to support any DYMO LabelWriter 400, 450, and 450 Turbo printers used with KidCheck. We will also continue to stock and sell labels for the DYMO printers at the same low price. No change there for KidCheck customers.
The Label Restock Program also remains a benefit to KidCheck customers for added convenience so you never run out of labels and get a lower cost per roll saving money. The program works for any KidCheck customer for labels, regardless of DYMO or Brother printer brand.
While DYMO has created a replacement for the LabelWriter 450, we have decided not to sell the DYMO LabelWriter 550. We feel it's not a good option for our customers and is cost-prohibitive, especially in regards to labels.  The LabelWriter 550 is designed to only work with one specific type of label which is only manufactured by and sold by DYMO. This eliminates the ability for you to purchase or use other more cost-effective alternative label options. This also means labels used with the prior generation 400 and 450 printers are not compatible with this latest printer and vice-versa. We'd hate to see organizations end up having both printer types in the future and think they have the correct labels, not know which to buy, mistakenly purchase incorrect labels, or use the wrong ones in the wrong printer – all causing additional unneeded headaches.
While we are disappointed the latest DYMO 550 printer isn't a more viable option for children's check-in, we are excited to offer the Brother QL-800 and believe it's a better solution to help you reduce costs, increase ease of use, and decrease possible label confusion. Plus, remember DYMO printers are still supported and labels for these printers are still available to purchase on the KidCheck store and through the Label Restock Program.
Click here to learn more about KidCheck features or visit the KidCheck website for more information on our secure children's check-in and equipment solution benefits.