KidCheck and the INCM Early Childhood Event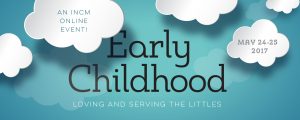 Today, KidCheck was honored to participate in the INCM Early Childhood Event, "Loving and Serving the Littles." The event was designed for those serving this special group within children's ministries and covered topics such as safety and policies, training and keeping nursery volunteers, how little ones learn, nurturing faith in nursery care, and creating welcoming early childhood environments, plus so much more!
With KidCheck being a leader in child security, we presented on the importance of being safety-minded when serving kids, and spoke in depth about eight essential elements. The topics included incident management, policy, training, the check-In and check-out process, security teams, volunteers, facilities, and abuse prevention.  These presentations are helpful in identifying the most relevant safety topics facing children's ministry leaders today.
Listed below are some of the topics of interest that came up in the discussion:
Allergy Management – What is the most effective way to alert volunteers?
First Aid Kits –What should be included in one and how often should it be updated?
Incident Reporting – How should an incident be documented?
Volunteer Policies – What's included in a comprehensive screening process?
Background Checks – How should background checks be handled and how often should they be done?
Child Protection Policy – Operating without one is never a good idea! What should be included?
If you have an interest in a topic that's not included in the list above or a question regarding child safety, please add it to the comments section below.
To attend future training in children's ministry click here to visit the INCM website.
Join our growing community on Twitter, Facebook, Pinterest, and Google+ for more child safety tips and tricks, best practices, and to learn about the benefits of secure children's check-in.