KidCheck New Features for Improved Guardian Location Tracking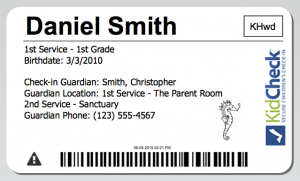 KidCheck places a high value on customer feedback and suggestions for product development. We appreciate anyone who takes the time to send us a positive comment or an idea for improvement.
This week's post has a dual purpose: First, it's to thank all the customers who took time out of their busy schedules to provide feedback on the improvements they would like to see to our Guardian Location Tracking feature. Secondly, it's an opportunity for KidCheck to share our excitement, and additional information, on some customer-driven enhancements that rolled out this week on the Standard edition and above.
KidCheck's Guardian Location Tracking feature allows administrators to quickly and easily know the whereabouts of a child's guardian should they need them or in case of an emergency. When checking children in, guardians also see a list of locations for them to choose from, to designate where they will be – i.e. Sanctuary, Café, Youth building etc.
We've improved the guardian location process for better tracking across multiple services. Now, during child check-in, parents can choose their appropriate different locations if they will be staying for more than one service. An example of this would be a guardian who is volunteering for one service and then attending another or vice versa.
In addition, there is now the option to have the guardian location print on the child's name badge for quick and easy reference, should a guardian be needed and not available by text. This is available at the administrator's discretion and can be turned on and off as needed.
Beyond the new features associated with guardian location tracking, we've also simplified and improved the child location drop down in the multi-service feature, making it easier for parents to choose the correct location; plus make it more intuitive to print more than one guardian receipt, or indicate a family is a "first time visitor".
In keeping with KidCheck's commitment to provide full-featured, easy-to-use children's check-in software, these enhancements are designed to simplify and improve check-in and parent communication.
For more, please see the screen shots below.
To learn more about product improvements, safety tips, and best practices visit the KidCheck blog or connect with us on Twitter, Facebook, Google+, or Pinterest.