Back to School Trends and Technologies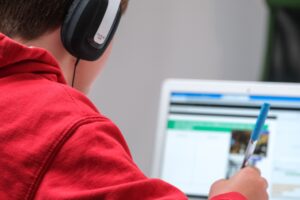 The beginning of the school year always brings excitement and a bit of nervousness. As you know, things change quickly. The new reality for organizations serving kids and youth is that what may have worked in the past may not work today.
According to eSchool News, a few focus areas in 2023 include emphasizing well-being, supporting individual needs, using technology to facilitate learning, and engaging students.
Here are five trends influencing kids and families this school year and how to best position your organization to succeed.
1. Improving Mental Health
Statistics found in the 2022 Data Book from the National Survey of Children's Health establish that kids and teens in the U.S. are experiencing unprecedented rates of depression, anxiety, and suicidal thoughts.
Consider how your organization provides support systems and resources for families focusing on their well-being. Can you extend your scope with the resources you have to offer counseling, tutoring, educational supplies, and a food bank?
2. Self-Directed Learning
 Meeting kids where they are and providing a more personalized approach to learning can help fill in the gaps.
If you observe kids who are struggling to connect with the information you provide, consider offering them additional materials that they can take home, time away from the group to review the information on their own, or opportunities to move while you teach, such as a whiteboard to doodle on, coloring sheets, or fidget toys. The point is to limit the one-size fits all approach to sharing information.
3. Learning Through Games
Research suggests that 97% of kids in the United States play video games for at least one hour per day. The article "The Benefits of Playing Video Games" highlights that within the last five years, a small body of research suggests some developmental advantages for kids who play games.
Incorporating games into the classroom or learning process, whether traditional or video, is an excellent way to synthesize learning and get kids excited. Games motivate kids and help them better engage with each other and educational content.
4. Microlearning or Nano-Learning
 eSchool News calls out "microlearning," or nano-learning, as a successful approach often used in corporate training, but it is expected to emerge and provide benefits in K-12 education too.
So, what is it? Per Shift Learning, microlearning is a game-changer offering bite-sized learning nuggets that pack just the right amount of information to help learners achieve their goals. They go on to say one of the main benefits is its remarkable impact on knowledge retention with increased learner engagement – meaning the more learners interact with the material, the more knowledge they retain.
Consider how you can adopt this successful new principle into the learning process not only for kids but also training staff and volunteers. One of the best ways to do this is to hold a weekly 10-minute standing meeting that highlights a specific piece of information, such as a safety policy, a schedule change, or a new program.
5. Artificial Intelligence (AI) & Virtual Reality (VR)
Artificial intelligence, virtual and augmented reality are predicted to play a more significant role in educational tools and resources for 2023. Examples include AI being used behind the scenes to generate a more immersive curriculum experience for students learning through e-based tools and platforms. AI also plays a role in creative activities such as art curation, research, writing, and solving complex math problems. Today educators and kids are becoming curious about how they can use AI and other realities in their daily work and lives.
While it may feel challenging to incorporate these new technologies into serving kids in your organization, it's easy to imagine where or how they could be used for daily tasks. Trevor Sutton of Christianity Today shares that various forms of simple AI have been used in areas of ministry for some time in tasks like voice dictation when composing messages, studies, or emails; as well as many already use it for research with Google, Safari, or Bing. Perhaps, the best approach is to continue to learn about these technologies and their benefits for the future.
The Opportunity
Leading kids throughout the year is like venturing into the unknown but also presents a great opportunity. As you consider these trends, think of ways your organization can leverage some of the key points to support families, facilitate learning, and better serve the kids.
Click here to request a free children's check-in demo. It's an excellent way for organizations to see and learn the benefits of using secure children's check-in.
Click here for additional child safety resources, or join our growing social community by subscribing to the KidCheck blog or visiting us on Twitter, Facebook, Pinterest, Instagram, and YouTube.
Sources:
eSchool News
Shift Learning
The Benefits of Playing Video Games – publications & journal
Prb.org
Christianity Today
Photo by Compare Fibre on Unsplash