Safety Tips for Vacation Bible School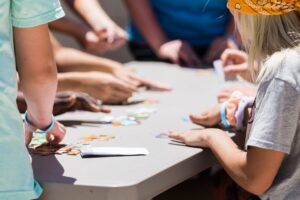 Congratulations, you have successfully planned one of the year's most significant outreach events, Vacation Bible School. You have picked a theme, secured the location, recruited and screened your volunteers, and are now working to promote your event. It is the perfect time to fine-tune child safety.
VBS is unique as it brings together many new visitors for a short time. New families will evaluate your organization by how you conduct the day-to-day safety processes. So, strong, visible safety policies go a long way to making a good first impression, giving families peace of mind, and supporting the belief that they are placing their kids in good hands.
Here are tips for improving child safety during your event.
Establish Check-In & Out Processes – Children's check-in is the front door to your organization and the initial point of contact for first-time families. Whether you use pen & paper, or an electronic solution, the goal is to gather and share health & wellness information to prevent an incident, such as an allergic reaction, and ensure the child is released to those authorized to pick them up.
Leverage Technology – Technology should be easy to implement, increase efficiency, improve safety, and help manage daily processes. Whether using phone apps or radios for communication, a real-time digital roster that replaces a manual clipboard, or Express mobile check-in & out for data accessibility and attendance tracking, implementing technology can help you do more with less.
Integrate Your EAP Into Event Information – Your Emergency Action Plan is a written procedure detailing an organization's emergency response. The key is identifying the emergencies most likely to occur during your event and plan accordingly. Think about emergencies inside and outside your facility and your response to health & wellness or behavioral situations. To save time, set up the event EAP on a page linked to the event information or the registration page.
Make The Event Area Plan Visible – Use event signage, handouts, and an Emergency Instructions Flipbook to share emergency instructions. Having visible maps for the location can help with evacuation and allow new visitors to know where they are and where their children will be in an emergency.
Identify Workers – Most VBS programs will have staff and volunteers wearing different colored shirts, which is an excellent starting point. But what is important is that all workers wear IDs so that families know who interacts with the kids. A badge can be printed on a tag and worn on a shirt or a lanyard around the neck. Visitors, even if they are parents or relatives stopping by the program, should always check in & out and be identified with a visitor tag.
Provide Appropriate Classroom Ratios – Studies show that smaller class sizes and reduced student-to-teacher ratios are strong indicators of success and engagement. Appropriate ratios can help reduce behavior problems and teacher stress and give participants a better experience.
Ensure First Aid Kits Stocked – Emergency preparedness doesn't just encompass large amounts of supplies. Most organizations will likely experience smaller-scale incidents in the day-to-day. Depending on how quickly you go through first aid supplies, keeping a written inventory and restocking each day is helpful. Click here for a list of items to include in your kit.
Connect with Your Security Team – The security team is an untapped resource often overlooked for short-term events. They are your first line of defense and a fantastic resource for incident management. Families will notice if their presence is limited or missing in the kid's area. So, connect with them early and have a coordinated plan. Identify who will be your lead during the event. Familiarize yourself with communication and get the correct equipment like radios or other communication devices.
Click here for additional child safety resources, or join our growing social community by subscribing to the KidCheck blog or visiting us on Twitter, Facebook, Pinterest, Instagram, and YouTube.
Click here to request a free children's check-in demo. It's an excellent way for organizations to see and learn the benefits of using secure children's check-in.
Photo by Jesus Loves Austin on Unsplash