The Top Security Risks of Sharing Your Password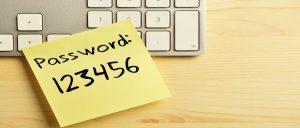 One of the most challenging aspects of living in a modern world is managing our digital existence, which includes maintaining multiple online accounts. Experian, a national credit monitoring organization shared that the majority of "25- to 34-year-olds register for an average of 40 accounts per email address. However, across those 40 accounts, each person was using only five different passwords." To make things even more complicated many organizations require employees to handle between 15-20 additional passwords. It's truly overwhelming just to think about it.
According to LogicalRead, "A survey conducted by a leading digital security firm showed that an astonishing 95% of respondents admitted to sharing as many as six passwords with other people, even though most know it is risky. The same study found that people are more likely to share passwords for work accounts than for their personal accounts."
It's understandable why many people want to strive for more efficiency by using the same password again and again, sharing passwords with other team members, or choosing the easy to remember "password" for the password. But, each of these actions poses a major threat not only to the organization but also to the important data often contained within a system.
LogicalRead, also said, "Researcher's at Shape Security highlighted that 90% of today's enterprise login traffic comes from attackers automatically trying passwords stolen from on-site login screens."
If you're still not convinced that sharing passwords or having a group password isn't a good idea here are some additional points we hope will change your mind.
Security is minimized and the important data contained in your system can be compromised, often times resulting in expensive lawsuits and very unhappy customers. Taking a passive stance on protecting others data never works for building trust and loyalty.
Change is constant. People move, change roles, take advantage of other opportunities. You don't want those who have moved on to have continual access to your system, especially if someone departs on poor terms.
One person can ruin it for everyone. This means that if someone is trying to log in with a group password and they can't seem to make it work the system will lock down automatically. This means everyone is locked out and a loss of access to information occurs. This can be frustrating for those looking to check their children into the system.
With multiple people sharing a password, more than likely someone will write it down and leave it near a system. This allows for the login information to easily be stolen. Stolen login information can be used to hack into other people's accounts.
Each of the details mentioned above pertains to security. Passwords are the front line defense. KidCheck takes strong measures to ensure your children's check-in password remains secure. However, it's no secret that keeping your data secure begins with establishing a strong unique password for individuals and families!
KidCheck has a passion for child safety and the role technology can play in helping churches, fitness facilities, activity centers, and other organizations caring for children. We provide a full-featured, easy-to-use children's check-in system. Click here to join us for a quick, fun, and personalized demo.
Sources: