Building An Emergency Survival Kit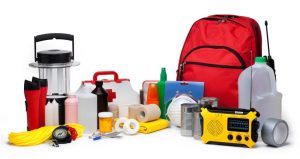 According to Ready.gov, the first 72 hours after a disaster are the most critical. Whether you're required to shelter in place with children or youth or offsite at an event, having an emergency survival kit for your organization is essential to protecting those in your care. For offsite events, have a portable version of the kit available for staff to bring when transporting children and youth to and from your site. Not only is it important to have quality supplies, it's also vital to have those supplies together in one place, where items can be easily accessible.
Focus on basic supplies for your emergency preparedness kit. Potential supplies include the following:
Light Sources – Flashlights, lanterns, and matches
Communication Devices – Battery-powered radios, and emergency cell phones, and extra batteries
Facial Coverings – For ages 3+
Cleaning Supplies – Soap, hand sanitizer, disinfecting wipes are a good place to start
First-Aid Kits – Click the link for a complete list of items
Water – Distilled or sterile water in addition to drinking water
Warm Blankets – During the colder seasons
Food & Snacks – Keep snacks and other foods as allergy-free as possible and plan for nothing with nuts
Disposable Utensils – Paper plates, cups, paper towels, and plastic utensils
Attendance List – Should include emergency contact information for each child. For mobile access to information, KidCheck offers the Admin Console App or the option for a report to be printed.
Emergency Contact List – Poison Control, local hospitals, emergency clinics, and utility companies are a good start
Special Needs Care Plan – For children and youth that include any emergency medications or special supplies
Activities – Books, games, puzzles, or other activities for kids
Waterproof Containers – Plastic bags or additional containers to hold kids supplies or belongings
After putting together your kit, make sure to maintain it, so it's always ready to go when needed. Clearly mark the kit so that everyone is aware of its location. We recommend creating a weekly or monthly inventory sheet to assist with managing supplies. During the inventory review, the dates of supplies should be verified to confirm nothing has expired. If possible, supplies should be restocked after every use. Some organizations manage the inventory levels by keeping a log of who completed the inventory check and when they restocked the supplies.
To learn more about disaster preparedness and receive additional safety tips, subscribe to the KidCheck blog or connect with us on Twitter, Facebook, Instagram, or Pinterest.
Click here to schedule a personalized demo and see firsthand the benefits of using secure children's check-in for your organization.
Now available is Express Touchless Check-In, which eliminates the need to use a check-in station or stand in line. Perfect for social distancing and germ management.
Sources: