The Importance of Reviewing Your Child Protection Policy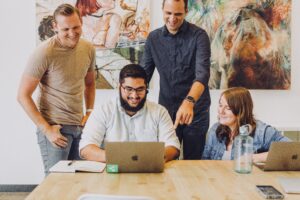 You may think of a policy manual as a dusty 3-ringer binder that hasn't been opened since the day it was put on the bookshelf or in the file cabinet.
Perhaps your organization thinks of policies and procedures as permanent or unchanging. Once the information is created and set, there's no reason to update it. Besides, the organization hasn't changed, so why would we want the hassle of reviewing and updating the information?
However your organization approaches reviewing your child protection policy, it's important to remember it's a living document that will grow and change over time. It should be used for onboarding, training, communication, leadership meetings, etc., and should be reviewed annually.
Ongoing policy review and revision are important to the overall safety plan. Outdated policies can increase risk and leave your organization vulnerable and out of compliance with insurance requirements.
Here are three common reasons to conduct an assessment.
Change – If your organization goes through a significant change in strategic direction, vision, leadership, or volunteer teams, it's always best to review your safety policy and procedures. This helps to ensure continuity of the day-to-day safety guidelines.
New laws or regulations – We saw this firsthand during the pandemic when several regulatory laws were changed involving those who care for children and the children themselves. You can help your organization adjust and transition immediately by incorporating the changes quickly.
Policy Violations – When serving children, things can happen when you least expect them. The best time to plan for an incident is before it happens. Often an incident or policy breach can be a catalyst for change and a good indicator a policy is outdated. By examining the details, you can determine gaps in training, guidelines, or understanding and decide whether it's an isolated incident, a bad decision, or a repeated violation.
To Update or Not to Update
The goal is not to rewrite your whole child protection policy every year. A policy review doesn't necessarily mean hours of revisions; sometimes, only a few minor tweaks are needed.
So how do you know if the review process if a policy or guideline needs to be updated or completely replaced? Here are a few questions to ask yourself.
Is the guideline or policy being executed as intended? Get feedback from staff, volunteers, families, and in some cases, the kids. Ask if the policy is difficult to understand or follow. Does the process add value or make things easier for families? If no one is following the procedure, ask why.
Is the guideline providing the desired effect? There are some instances when everyone is following a policy or procedure, but it's not meeting the intended goal. This can be the case with child safety guidelines. For safety guidelines such as classroom ratios, bathroom procedures, or the Rule of Two, you should have a clear objective or goal for implementing. This will help you track and measure success or see where the policy is failing.
Are your policies and procedures current and relevant? Your child protection policy should align with your current processes and how they operate, which makes expectations clear and removes any ambiguity.
Since reviewing the child protection policy can take time, assigning someone to capture feedback and recruit staff and volunteers to help and plan for the review is essential. A yearly review will identify opportunities to improve child safety and provide families peace of mind.
Click here to subscribe to the KidCheck blog, receive additional child safety information, or join us on social media. KidCheck can be found on  YouTube, Twitter, Facebook, Pinterest, and Instagram.
Photo by Jud Mackrill on Unsplash