15 Back to School Safety Tips for Families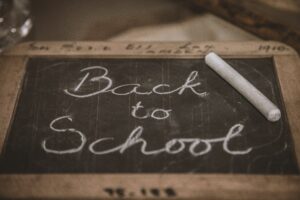 For many families, back-to-school is not only a time of new beginnings but also a time of stress and anxiety over their children's well-being and safety. You may receive family questions on how they can safeguard their children during the back-to-school craziness. Families are always interested in how to equip their children for safety.
Most child safety information families receive is about stranger danger or the risks of online activity. However, focusing on just these two topics is no longer adequate, and kids need to be more informed on how to protect themselves when their guardians are not around.
Here are fifteen tips you can share with families to help educate them on increasing safety in the new school year.
#15 – Ensure your child knows not to go anywhere or take anything from someone they don't know.
#14 – Never write your child's name on the outside of a backpack or jacket. This gives predators a way to start a conversation using the child's name, which immediately builds trust.
#13 – Let your children know it's okay not to be polite when someone scares them or makes them feel uncomfortable or uneasy.
#12 – Make sure your child knows their parent's names, home address, and at least one emergency contact phone number.
#11 – Teach children grownups don't ask kids for help, they ask other grownups.
#10 – Volunteer for the organizations where your kids have activities. Places like school, Sunday school, sporting events, and other extracurricular activities are good places to make your presence known.
#9 – Build strong communication channels with your kids, tweens, and teens. This will help them feel comfortable coming to you when something doesn't seem right.
#8 – Speak up if you are uncomfortable about a specific situation or someone else's behaviors. This is a hard step to take, especially if you are non-confrontational. Your responsibility is to the safety of your child, not an offended person.
#7 – Be an engaged parent! Child predators often pay attention to family dynamics or parenting styles that appear more removed or hands-off.
#6 – Don't be shy about asking an organization about their child protection policies and abuse prevention initiatives.
#5 – Look for signs that an organization prioritizes child safety. This could be anything from posters hung on the walls, information in newsletters and social media, or actual child safety classes.
#4 – Ask organizations where your kids are involved about their background check policy for staff and volunteers.
#3 – Encourage families to trust their instincts and let their kids know it's okay to trust theirs if something doesn't feel right or seems off.
#2 – Spend time with your kids. Children who look for attention or affection outside the family are vulnerable to predators.
#1 – Pay attention to who is paying attention to your children! Immediately stop an activity where an adult isolates your child or singles them out and does not include you as a parent.
It takes less than 60 seconds to bait and draw a child away. Partnering with families to help them effectively, and without fear, empower and teach their kids important safety rules is a worthwhile investment in helping to keep kids safe.
Click here to subscribe to the KidCheck blog, receive additional child safety information, or join us on social media. KidCheck can be found on  YouTube, Twitter, Facebook, Pinterest, and Instagram.
Photo by Deleece Cook on Unsplash