Comprehensive Candidate Screening – The Virtual Interview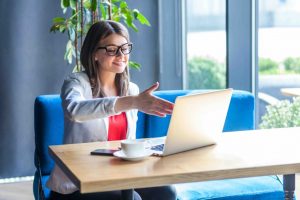 For individuals applying to work directly with kids and youth, professionals agree the interview is an essential step in the overall Comprehensive Candidate Screening process and contributes to preventing abuse. Conducting an interview generates valuable candidate information and allows individuals to be viewed from different angles.
However, the interview process has changed. Evaluating candidates is challenging enough during traditional times, but now organizations are encouraged to accomplish more with less time and resources. So, how exactly do you pivot in this new reality of a pandemic?
Here is what you need to know about adapting to the new interview process and how you can make it work for your organization and continue to hire well-qualified staff and volunteer candidates.
1. Shift to a Virtual Process
Today many candidates expect the initial process to be virtual, and it is not unusual for the process to be entirely remote from start to finish. In addition, organizations may have a virtual onboarding process once a candidate is hired. The good news is that switching to an online process can allow for more flexibility for candidates and interviewers.
Be sure to prep for remote interviews like you would for an in-person meeting and make sure your candidates are informed of each step in the virtual screening process. Check in advance the technology and tools that will be used for the interview. These include remote meeting software, a laptop, headphones, and a mic. Before the interview, confirm each tool works well together and that the background image displayed during the discussion is not distracting, cluttered, or inappropriate.
2. Set Aside Additional Time
The virtual process is different for each organization. Often there are additional meetings for each candidate due to the lack of ability to meet face-to-face. The extra sessions are a way for interviewers to get to know the candidate better and increase discussion time for deeper conversations. With additional calls or video conversations, it might help ask top candidates to prepare a presentation of their experience working with kids and youth to share with each interviewer. This is an excellent way for prospective team members to demonstrate what they will contribute and the impact they will make on the team.
Allow additional time for various questions that seek to determine a person's well-being and competency in developing programs and mentoring kids and youth. Click here for the original post containing a list of security questions to ask each candidate to work directly with kids and youth.
3. Focus on Collaboration and Transparency
With the changes to the current interview process, a few personal traits have become increasingly important for those leading teams. The candidate's strengths that top the list are collaboration, communication, and working remotely when necessary. As a decision-maker for the position, the interview will help determine how a candidate handles the new remote landscape. Are they able to stay engaged on the call or video? How well do they communicate remotely? Are there tools they used previously to share and keep others engaged? Are they self-starters with strong communication skills? Can they integrate into a virtual team? Each of these questions elevates transparency and provides a foundation for performance.
4. Expect Disruptions and AdaptHiring candidates and volunteers remotely is a new method for most organizations. Meaning everyone is working to make the process go as smoothly as possible. The key is to be prepared for disruptions and adapt, see tips above under "Shift to a Virtual Process." If the remote process is new for you, the hiring team, and your overall organization, be open and honest about it. It is okay to let candidates know they are engaging in a new process, times are different, and everyone is doing their best to make hiring remotely work.
5. Plan for a Safe Onsite Interview
When it comes to interviewing as organizations begin to open, inviting the final candidates onsite to complete the process becomes more feasible. Due to the sensitive nature of working directly with kids and youth, when top candidates have been thoroughly vetted, it may be necessary to invite them onsite for a final interview. Here are some quick tips to make it as safe as possible.
Inform the candidate of the onsite protocols regarding masks and meeting spaces.
Confirm the candidate or volunteer has undergone a health screen before their arrival.
Think about holding meetings outdoors whenever possible.
Adhere to social and physical distancing guidelines.
Have clearly defined areas for handwashing and sanitizer available.
Clean and disinfect meeting areas if located inside.
Provide spaces for candidates to take breaks in between conversations.
Make sure to postpone meetings if anyone on your team is sick or the candidate discloses they are not feeling well.
Making a good effort to evaluate candidates either remotely or in-person will provide families the assurance they need to know your organization has done its due diligence and demonstrates a commitment to reducing risk and improving safety.
Click here for the original article.
Click here to learn more about the many benefits of using secure children's check-in. To keep the information coming, subscribe to the KidCheck Blog or join us on YouTube, Twitter, Facebook, Pinterest, and Instagram.