Twelve COVID-19 Action Steps for Germ Management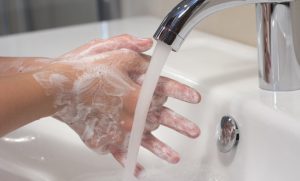 Increased sanitation and hygiene are the new normal for child and youth-focused organizations. As preparations begin for families to return, most will have questions about cleanliness and ongoing germ management.
To help prevent the spread of COVID-19 and build trust with staff, volunteers, and families; procedures should be in place for improved germ management.
Here are twelve action steps organizations can take to ensure wellbeing and ongoing safety are a top priority.
Post a schedule for tracking the times when toys and tables are cleaned, including a box to check when completed. Tracking the cleaning schedule is essential.
Create individual supply bags for each child: scissors, markers, glue sticks, etc. to minimize sharing.
Only use the number of toys that volunteers can reasonably clean after each session.
Manage capacity and limit attendance in the initial phase of reopening—set parameters on the number of people allowed in the children's area. Consider permitting only one parent to drop off and pick up.
Store excess toys and limit the amount available in classrooms. Keep back toys that are difficult to sanitize after each use.
Create training videos or written information for new policies. Require staff to sign off that they have completed the training before being allowed to serve.
Provide ways to clean or wash hands when running water is not available in the room. Either use an alcohol-based gel or spray bottles with soapy water and rinse water. Make sure to provide paper towels for drying hands.
Purchase several no-touch thermometers. Create a plan for when and how they will be used.
Review or create safety and security policies to be used in both preschool and older children's areas.
Streamline children's check-in or plan to move to a touchless process.
Purchase spray bottles and preferred cleaning solutions. Make plans to provide freshly made cleaning solution each week.
Clean and sanitize all carpets and rugs in your children's areas. Plan for this on an annual basis.
Click here to learn about the benefits of secure children's check-in. For more safety tips, best practices, and original content join our growing social community. You can find us on Twitter, Facebook, Pinterest, and Instagram.
Source: ncbaptists.org