8 Steps to Create a Training Program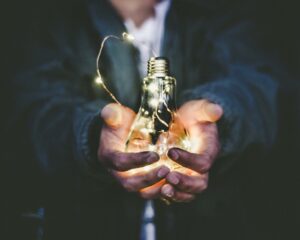 We are heading into fall, meaning an increase in new volunteers who need to be trained. Many will be responsible for tasks they have never completed in a system they've never worked in. To help new volunteers be successful, you need to increase their knowledge and provide a baseline of understanding about the tasks for their role. This means having a training program that is informative, effective, and easy to complete.
A training program is different from a new volunteer orientation. New volunteer orientation provides basic information about the organization, like its mission and vision, whereas a training program is designed to ensure every volunteer has the knowledge they need to perform their role. A training program focuses on specific tasks and includes things like child protection policy, health and wellness guidelines, the rule of two, bathroom procedures, and incident reporting.
Follow these eight steps to build your own training program.
Step 1: Keep the End in Mind
This means knowing precisely what you want people to know when training is finished. Focus on role specifics, like what information they will need to know. What are some of the key learnings, terminology, or ideas you want to convey? What tasks should they be able to complete immediately? As you gather information, think about people's time and how long the program will take to complete.
Step 2: Create an Outline
Once you are clear on the duration of the course, create an outline that includes the content or information you want to present. If possible, connect the information back to your organization's values. This will help people have a good understanding of the culture.
Step 3: Skill Development
This step is for teachers, team leaders, super volunteers, and staff members who participate in coaching. These roles require a deeper understanding of serving others and how your organization's ideals play into building strong teams, committed families, and long-term volunteers. In this step, identify the skills required for the leadership level. These skills could include conflict resolution, project management, volunteer scheduling, facilitating workshops, or providing feedback.
Step 4: Update Guidelines and Policies
Established guidelines and policies help eliminate the grey area when working with kids and youth. Before you include these in your training plan, make sure to review and update or invest the time to create what is needed. A good example is the Child Protection Policy, which is vital for organizations serving kids. The Child Protection Policy outlines how you intend to safeguard and protect the children in your care. It is an excellent training resource and should be treated as a living document – meaning it should constantly be referred to, shared, and improved over time.
Step 5: First and Last Impressions
First and last impressions are important because they happen so fast. According to Harvard Business Review, judgments are formed in a nanosecond, and once established, are difficult to change. The goal of making a lasting first impressions is not to "wow" new visitors, but to create meaningful and memorable experiences when they arrive and depart. For those working in front-facing positions, include information in the training on how to greet people in the check-in area, make eye contact, offer helpful information or point people to where they can learn about your program, safety policy, or volunteer screening process. Don't forget about the goodbye and follow-up. The last impression helps impact how likely a new family is to return.
Step 6: Practice Makes Perfect
Some people benefit from practicing new skills or putting into action new information they have received. Your training program should provide opportunities to role-play, practice new skills, discuss the material, and review policy in a low-risk environment.
Step 7: Plan to Incorporate Feedback
One of the most important parts of being on a team is for members to understand their strengths, weaknesses, habits, behaviors, and communication styles. Feedback is an excellent way to build a strong team, unite people, and create healthy communication. It provides a sense of engagement and connectivity and allows everyone to take ownership of their contributions.
Step 8: Leverage the Experts
There are many advantages to not recreating the wheel. When developing your training program, utilize what others have created. Look to the experts for how to build high-performance teams and use proven methods to navigate complex situations. Seek out new perspectives from publications like The Harvard Business Review, Training Industry Magazine, or eLearn Magazine. Look for videos, podcasts, and social media platforms that share information on in-person training. Many sources provide endless learning and development options to support you.
The End Result
With the right approach to standardizing your training program, you can build a culture where everyone can grow, thrive, establish deeper connections, and increase accountability.
Click here to request a free children's check-in demo. It's an excellent way for organizations to see and learn the benefits of using secure children's check-in.
Click here for additional child safety resources, or join our growing social community by subscribing to the KidCheck blog or visiting us on Twitter, Facebook, Pinterest, Instagram, and YouTube.
Photo by Riccardo Annandale on Unsplash