Five Steps to Creating A Disaster Plan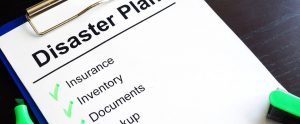 Preparation is one of the most significant challenges organizations face today in responding to a disaster. The best time to prepare for a disaster is before one happens. Whether you're thinking about getting started on creating a plan or perhaps you're in the middle of responding to an unexpected disaster, listed below are five guidelines to consider when preparing your organization to respond effectively.
Step 1: Create a planning team – Whether you're a small or large organization, you can't do it alone.  It's best to bring together a small core-team that represents the different areas of the business. Consider asking a parent or two to join the team; this helps you to address the needs of the families you serve. Another great resource to include on your team is a local first-responder. First responders are always helpful in providing information on the best way to approach disaster planning.
Step 2: Start planning discussions with your core-team – Here are some higher-level questions to get the conversation started. There are many more that can be included, but these are foundational questions to help get you going.
What will the framework of our emergency plan include?
Do we have what we need for executing a plan?
Are the financial resources available to update items such as preparedness kits?
What online resources will we use to make ongoing decisions?
How will our organization approach evacuation orders? Will leadership stay or go?
Do we have updated contact information for families, staff, and leadership?
Have we contacted local resources such as police, fire, and emergency management officials on how best to utilize their services?
Is our organization able to provide additional support services to our community?
Step 3: Identify the specific needs of the families you serve – As your team prepares the plan, take into consideration the needs of the children and families you serve. Document individual roles and responsibilities on how staff and leadership will respond, and if needed, assist each other. Reference these factors when developing your plan.
Consider the different age groups in your organization. For evacuation purposes, can groups be combined for easier transporting?
Do you have the required equipment to support children with disabilities?
Are there medical needs, including prescriptions and equipment? How will these items be stored or transported during an evacuation?
Is there a need for multi-language support of children and families?
Step 4: Complete the communication plan – Here are some tips for tackling this enormous task.
Assign at least 2-3 people to manage communication internally with members and externally to local resources.
Provide preparedness and survival information, evacuation routes, and options for people that choose to stay.
Utilize the tools available within your check-in system to communicate with member families.

For example, KidCheck includes Broadcast Email and Text Messaging features, which enable you to send an email or a text message to a group of parents, volunteers, or both. This is helpful for last-minute updates, change notifications, or emergency announcements. It's easy, fast, and convenient when the time is of the essence.
Also, a children's check-in/out system can be beneficial if your facility becomes an emergency shelter.

A check-in system provides enhanced security and is vital to child safety. Regardless of whether you're using an electronic solution or another method, individual tracking and safety measures are still a necessity.
Step 5: Prepare to protect your facility and minimize property damage
Board up windows
Reinforce doors
Secure heavy electronics such as televisions and computers
Anchor bookshelves and large cabinets
Strap water heaters to walls
Secure items that could become projectiles and unplug all cords from outlets
Additional Resources    
For additional emergency response information, visit Ready.gov/plan, subscribe to the KidCheck blog, or download the KidCheck Emergency Instructions Flip Book.