"Keeping Kids Safe" – Webinar Recap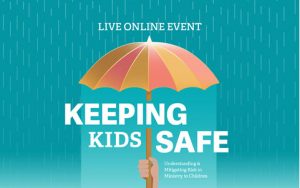 This week KidCheck participated in the International Children's Ministry (INCM) "Keeping Kids Safe" online event. The event offered leaders a better understanding of safety and minimizing security risks in children's ministry. Training sessions included speakers from American Church Group, Protect My Ministry, Plan to Protect, Shadow Mountain Community Church, KidCheck, and more.
KidCheck discussed with Heidi Hensley, the Children's Pastor at Shadow Mountain Community Church, the importance of doing a Child Safety Assessment (CSA) and why right now, while the pace of ministry is slower, is a perfect time. We outlined the two critical questions to ask during the CSA: "Is my organization as safe as it can be? What does safety look like in the new normal of COVID-19?"
We also highlighted the benefits of a CSA for both families and organizations. For families, the benefits included opening the lines of communication, confidence building, and encouraging engagement when families return. For organizations, the benefits include an increased opportunity of seeing things that may have been missed, prioritizing child safety, and helping to establish a new rhythm after isolation.
There are four essential elements of a CSA for Phase 1 of a church's reopening plan during COVID-19. KidCheck shared the details of each component, and Heidi highlighted the actions she's taking within her community.
We also discussed best practices for physical distancing, sanitation and hygiene, and procedural modifications. For physical distancing, ideas to maintain 6ft with children's ministry include offering the more vulnerable children a separate entrance and exit space, and limiting the number of kids per class. For sanitation, Heidi's process includes placing items in the room that have been touched in a garment bag and storing them in one place after each use so they can be sanitized the following day by a volunteer. Multi-use areas such as classrooms and the nursery are disinfected between each service. Additional procedural modifications Heidi is considering include taking a child's temp before admitting them to the children's ministry area, volunteers wearing masks, providing a separate place if a child or volunteer becomes sick, and continuing with an online service for children throughout phase 1 and 2.
Several resources are available to help understand what phase 1 and phase 2 of a reopening plan look like for organizations and how to interpret federal guidelines to individual state requirements.
For more information on using the benefits of secure children's check-in, join us for a personalized demo or join our growing social community. We're on Facebook, Twitter, Instagram, and Pinterest.