The Importance of Summer Camp Safety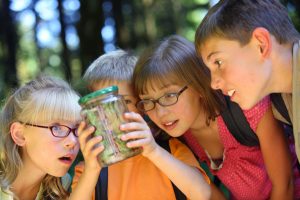 Summer camp is the stuff dreams are made of when you're a kid. As adults, the memories of being in nature, building a campfire, time spent swimming, and doing lots of cool art projects still come to mind when summer hits. Nevertheless, it's always important for child and youth-serving organizations to prioritize safety and protection, as crimes against children continue to rise.
Many organizations acknowledge that child safety and protection are important, but few realize the impact it can have on the bottom line. By working to improve child safety organizations can benefit from a reduction in risk and liability, a positive parent perception, and an increase in retention and loyalty, meaning families will return again and again.
Every organization is different, and there's no one-size-fits-all approach, but taking an inventory of what is working, what needs to be added, improved, or reviewed is a great start. Each camp should conduct an annual security assessment to help determine the level of preparedness.
Here are some child safety practices to implement.
Assess your land and facilities for vulnerabilities such as fences that have fallen, burned out lights, isolated areas, broken locks or windows, anything that could pose a threat to safety.
Create a check-in and out process for all campers, staff, and volunteers that includes photo verification to ensure only authorized guardians can pick children up. Due to the chaotic nature of arrival and departure, a check-in/out process that's mobile helps eliminate wait times, adds flexibility and convenience, and allows staff to offer a personal touch.
Add a short 5-10 minute child safety survey to your annual security evaluation. Use it to learn how your organization is doing regarding safety, gain feedback, and open lines of communication with families.
Establish a child protection policy that ensures anyone coming into contact with children have a defined set of working principles that eliminates the gray area regarding interacting with kids. The policy should include screening, reporting, training, touch, social media, supervision ratios, transportation, bullying, and boundaries.
Determine a visitor protocol for friends and family, delivery people, suppliers, vendors, and anyone just stopping by unannounced. This should include a check-in/out process, available time, dates, and visitor identification for those walking around.
Implement a comprehensive screening process for any individual that will be coming into direct contact with children or working onsite at the camp. The screening process at a minimum should include a written application, background check, social media review, references both personal and institutional, face-to-face interview, motor vehicle report, and drug screen.
Identify and track allergies, medications, release forms, and other wellness related information with a health management plan. The plan should include any information you will need to administer and monitor medication, prevent exposure, and be able to ensure safety for the child. For allergies, it's best to have the information digital so that it can be accessed quickly. An electronic children's check-in system can help here.
Equip leadership, staff, and volunteers with consistent, targeted training on all policies, guidelines, and protocols. Training should be done before, during, and after the camp season has commenced. Training that occurs in short weekly standing meetings is more effective than large training a couple of times of the year.
Get to know your local resources such as police, fire, and paramedics. They are fantastic resources for helping to identify opportunities for improvement in safety. They are also a great resource when determining emergency management procedures in the event of an evacuation, or a natural disaster. During the off-season, providing them access to your camp for training, purposes are helpful for them to learn the layout of your property in the event they need to respond.
Communicate to inquiring, new, and returning families what you're doing to improve child safety. Families appreciate seeing child protection measures in place, understanding how they work and what the response will be during an incident. You can share your efforts in the registration packet, online, via social media, meetings, newsletters, etc.
The benefits of summer camp can last a lifetime. Camps that prioritize child safety offer peace-of-mind to parents who consistently rank child protection in the top three most pressing issues facing children today and ensures them they're leaving their kids in good hands. By providing a safety plan, child protection policy, screening guidelines, and a solid staff and volunteer training program, you will help your camp stand out and keep families returning year after year.
Click here to learn more about the benefits of using secure children's check-in or schedule a free product demo. If you want to keep updated on the latest in child protection trends, safety tips/tricks and best practices join our growing community on Twitter, Facebook, Instagram, and Pinterest.