The Power of Feedback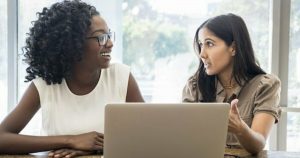 Feedback is an excellent way to build a strong and resilient team, bring people together, and create a healthy flow of communication. It provides a sense of engagement and interactivity, allowing staff and volunteers to take ownership of their contributions. Good feedback is vital for growth and strong teams.
To take full advantage of feedback, you will need to take the time to actively listen, analyze what is shared, and discern the best possible solution for moving forward. Providing effective feedback is an essential skill all leaders must learn. Feedback is most productive when it is consistent, ongoing, and informal. People perform better when they know how they are doing if they meet expectations and what they need to do to improve.
According to forimpact.org, there are three types of productive feedback. The first is appreciation, which expresses thankfulness and gratitude. The second is coaching, which indicates a better way to approach completing a task or improving performance, and the third is an evaluation which signifies where a person stands. Leaders should become proficient at using all three types of feedback as they are interchangeable and easily incorporated into any environment.
Successful people love receiving feedback, whether you share something positive or constructive. Positive feedback can include how they impacted the organization and why it was effective. Constructive feedback is meant to be supportive and identify areas of improvement. Constructive feedback often leads to growth, additional skill development and makes someone aware of unmet expectations, which helps to improve performance.
Delivering feedback is not always easy, and if done incorrectly, it can do more harm than good. Feedback given in an overly critical way without a clear path to improvement can be demotivating, impede performance, and eliminate a person's desire to contribute or engage.
For feedback to be effective, it is best to work individually with your team members. People are more receptive if they feel that you care about their feelings and ambitions. Consider writing down and rehearsing what you will say before you speak with them – this eliminates any awkwardness and starts the conversation on a positive note. The key to this process is to facilitate open dialogue and build a relationship with your team members.
When staff and volunteers see those they report to leading by example, it sets the tone from the top. Leaders who model strong feedback principles by understanding how to give and receive feedback motivate others and create strong loyalty and engagement on their teams.
Feedback is an investment in talent and worth the time it takes to integrate into your culture. It will make staff and volunteers feel their voices are heard, and their work is valued.
Click the links below for additional information on leadership development.
Building A People-First Culture
Eight Networking Tips for Today
Six Ways to Motivate Your Team in Challenging Times
Eight "Be" Statements for Successful Leadership
Ten Tips for Social Media Guidelines
Click here to learn more about the benefits of secure children's check-in and how it can help your organization attract new families, improve child safety, and balance workload.
Join our growing social community. Subscribe to the KidCheck Blog or find us on YouTube, Twitter, Facebook, Pinterest, and Instagram.