Creating an Anti-Bullying Program: The Implementation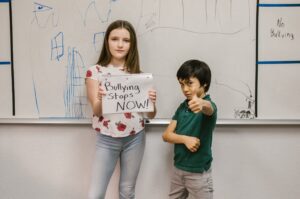 This is the third and final post in the series on Creating an Anti-Bullying Program. The series focuses on the components, the framework, and the implementation of a new program.
This post discusses the steps to successfully implement your program and the benefits of tracking and managing the performance. Implementation is focused on the detail or critical steps necessary to put your new program into practice. It is a list of tasks with due dates assigned to owners from your resource team. It works as a project management tool to keep everyone on track.
To implement your new program effectively, it's essential to build a step-by-step process along with your existing timeline, organizational objectives, and participant expectations, all of which are outlined in the program framework, the second post in the series.
The goal of program implementation is to deliver results that positively impact your organization, support the need for the new program, and make it possible to track and manage your success. Suffice it to say, training will be a large part of the overall implementation activities.
Here is a step-by-step guide to implementing your anti-bullying plan.
Step 1: Finalize the specifics of your anti-bullying program. Include team participation and a timeline from start to finish. Details include the mission statement, tag line, project objectives, training information or curriculum, and the program logo. Decide what week you will launch the program. Confirm new policies and procedures include ongoing prevention, intervention, and incident response strategies. Prevention should have suggestions for student participation and empowerment messaging.
Step 2: Train your program team and finalize training materials. This is an excellent time to assess engagement and solicit feedback before going live with in-person and online presentations, web pages, broadcast emails, newsletters, pamphlets, program posters, staff communications, and text notifications.
Step 3: Have your program team begin to train staff, volunteers, and the leadership team. If possible, you, as the program manager, should plan to present to families and the extended community. Continue to solicit and aggregate feedback from each training session and adjust as necessary.
Step 4: To help you solicit and gather feedback from the training, develop a final evaluation form, questions for volunteers and staff when training the kids and youth, and a confidential process for reporting any bullying mentioned during or after the training.
Step 5: Prepare for the launch! This is the week all the internal and external materials, training, and activities go live. The goal is to build up buzz and get the kids and families excited about the supporting message and each other. In addition, this is the time to emphasize a zero-tolerance policy for any bullying.
Step 6: Deliver family and other key individual presentations online or in-person and discuss their role in the prevention, intervention, and incident response. This will help increase awareness and involvement outside of the organization.
Step 7: Roll out the program to all kids and youth in the organization. If it's a tiered rollout, communicate the plan so that everyone knows when they will be involved in the discussion. This step is an all-hands-on-deck activity that includes age-appropriate information, discussion time, and follow-up. The feedback from these presentations will help you identify high-risk situations, the location, time of day, age group, and be included in the response plan.
Step 8: Confirm and review the implementation of all framework components. Schedule feedback and follow-up meetings with all volunteers, staff, leadership, families, and any individual with a vested interest in the program's success.
Step 9: Document and detail the feedback from each step of the implementation plan. If needed, schedule a meeting to analyze what was done correctly, incorrectly, or indifferently. This feedback is valuable for identifying what success metrics to share with leadership.
Step 10: Conduct an anonymous participation survey, analyze the data, make any needed adjustments, and continue to communicate the program's success. Metrics should include the percentage decrease of the rate of incidents, engagement metrics, family and child testimonies, ongoing training, and intervention achievements.
Once you have completed all ten steps, it's time to celebrate your success! By creating your anti-bullying program, you will have the flexibility to customize what works for your organization. In some cases, the implementation may be lengthy. However long it takes, the benefits are worth it.
Click here to subscribe to the KidCheck blog or join our social community for additional child safety information. You can find us on  YouTube, Twitter, Facebook, Pinterest, and Instagram.
Click here to schedule a free product demo and see first-hand the benefits of using a secure children's check-in system in your organization.