Tips for Difficult Conversations with Attending Families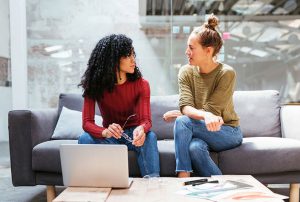 As a child or youth-focused organization leader, you know the importance of effective communication with families. It's easy when things are running smoothly, and there's no immediate need for difficult discourse. But, what happens if there's an incident or behavioral issue with a child or a family refuses to follow a safety policy, such as the child check-in or check-out process? How should you respond when conversations become tense, and communication is stressful and feels impossible in some situations? How do you prepare for and possibly even gain benefit from challenging dialogs?
Whatever the topic, learning to have tough conversations with confidence is an excellent skill to acquire. Remember, complicated exchanges can be equally challenging for families. It might not be the first time they have heard about an issue or didn't want to follow an established policy.
There is no one right way to engage others on sensitive topics. Here are some tips to start the conversation, keep your cool, and grow your relationship and trust.
Never Surprise Families
Many people do not like to be surprised, especially when it involves a concern about their child or youth. However, it's essential to keep families apprised of any issues that arise. Never hold back information. Communicating early and often will help avoid problems as it makes sure families are aware of the concern.
Prepare and Practice for the Conversation
Make sure all details, research, and examples that support your position are easily accessible and available to the other parties before the discussion. If nerves get the best of you, consider role-playing with another staff member or manager, this will help you to organize your thoughts, be clear, concise, and confident in your position.
Identify Differences in Communication Style or Culture
Families come from all walks of life. If you've been trying to communicate and are hitting a dead end, or families aren't engaging, perhaps there is a style or cultural difference. Be mindful that not everyone may speak your language or appreciate your style. When communicating face-to-face, look people in the eye, listen more than you speak, and allow them time to share their perspectives. Be slow to anger and welcome differences of opinion.
Keep Leadership Informed
Often leadership can help diffuse a situation if they are aware of what is going on. Sometimes they may have additional insight into a family situation that you don't have, which can provide another lens to view the exchange. If the issue cannot be resolved, have leadership sit in on the discussions with families. Having a second set of eyes and ears on a situation protects everyone involved.
Leverage Multiple Communication Channels
Depending on the situation, people respond differently to alternative methods of outreach. If you have contact information, check and see if a preferred contact method is listed and how they have responded in the past. Did email work better than a phone call? Do they prefer direct messaging via text or social media versus a letter or a Zoom call? Do your best to set up a face-to-face for the initial conversation and make sure to confirm how they prefer to be contacted going forward.
Focus On Your First Words
Creating a positive first impression is important, and the initial words out of your mouth will set the tone for the remainder of the discussion. Even if tension exists, thank them for coming and taking the time to speak with you directly. Assure them the goal of the discussion is to identify what's best for their family. If there's been a terse exchange, consider beginning with something like, "I know we got off on the wrong foot", or "I realize my first response was a bit harsh, but I'd like to clear the air and make sure we are addressing the current challenge for resolution."
Listen to Understand
It can feel satisfying to get our point across and be correct, but be careful, that can hinder your ability to listen and receive feedback. The attitude of "I'm correct, and you are mistaken" can railroad any conversation and stop it immediately. Practice listening without interrupting. Resolution can be found in the details we sometimes miss by speaking more than we listen.
Share Information
Be prepared to share helpful information, even If there has been a tense exchange or prior altercation and a family threatens to leave your organization. Respect their wishes and provide information on alternatives, other programs, and services that might be a better fit. Then, even if a resolution is not reached, you can still help them transition without malice.
Seek Input
Before you meet with the family, ask around your organization and see if others have input or know additional information about the situation. Find out if someone else has worked with them and what their experience was like. Learn if there are topics you should avoid. See if anyone on the leadership team has insight into the current situation or knows of changes that have taken place, such as a death in the family, job loss, or illness – further insight can create empathy. Finally, seek mentoring from another leader. Perhaps they have encountered a similar situation or have personal experience with a particular topic.
Finish Strong
You don't have to win the battle. Perhaps you agreed to disagree. Leave the door open for additional communication and share your final thoughts honestly. Be clear about the next steps as you end the conversation. If the outcome wasn't what you had hoped, make sure to thank them for their time and input. Say something like, "I feel like this was a good start. Please don't hesitate to contact me if you think of anything else", or "I'm glad we were able to work together for the benefit of your son or daughter. Let's set up a time to continue the conversation." The point is respectful discourse is a great way to build trust and loyalty.
As a leader, you'll have many conversations with families throughout your career, and most of them will be rewarding, productive, and pleasant with the goal of finding a resolution that's in the best interest of the family. However, for conversations that aren't easy, look at them as opportunities for personal growth and a way to establish trust and confidence in your organization.
Click here to learn more about the benefits of secure children's check-in and how it can help your organization attract new families, improve child safety, and balance workload.
Join our growing social community. You can subscribe to the KidCheck Blog or find us on  YouTube, Twitter, Facebook, Pinterest, and Instagram.