Top Blog Posts of 2021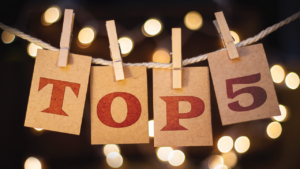 In 2021 KidCheck continued to share new ideas and original content to help equip leaders of organizations focused on kids and youth to improve protection and safety. Our goals for the blog are to provide new insights, highlight the benefits of using our technology, and provide relevant, actionable information to help you serve the changing needs and expectations of families.
Here are the five most popular blog posts from last year.
Thanks again for your interest in KidCheck and partnering with us as we look forward to new challenges and reflect on how we can continue to make 2022 an even better year. Your pickups, shares, and feedback for the information we post are always appreciated. Also, if you have topics you would like to see covered, please drop a comment below.
Join us for a free online product demo if you are thinking about transitioning from pen and paper to an electronic children's check-in system or switching from your current provider. You will see first-hand the benefits of using secure children's check-in to help improve child safety, streamline the check-in process and create a positive experience for families and your organization.
To keep the information coming, click here to subscribe to the KidCheck blog or follow us on social media. We're on YouTube, Twitter, Facebook, Pinterest, and Instagram.