Safety Tips for Back-to-School Season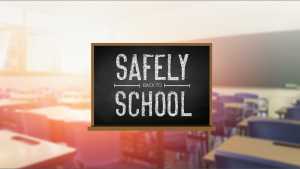 Summer has faded and kids have returned. Fall is a great time for reminders on how you can improve child safety. At KidCheck, we believe every child deserves to be in a safe environment and every parent, and organization caring for them, deserves peace of mind about their safety. Our goal is to equip leaders of child-centered organizations like you with the information you need to increase protection and safety.
Here are a few practical tips to help you prepare and promote safety all year long.
Utilize a touchless check-in and out system to eliminate lines, socially distance, and improve germ management.
Update your Child Protection Policy. Look to include germ management and communication plan for ongoing covid response.
Ramp up a training and education strategy. Ensure everyone knows your child safety policies, emergency procedures, and evacuation plans.
Plan and practice scenarios with your volunteers, staff, and families for a fire threat, tornado/hurricane, flood, and facility lockdown.
Know your local resources! Police, fire, and EMS are great resources to help identify potential risks, hazards, and threats. For additional safety, consider allowing them to train in your facility.
Confirm that every volunteer, staff, or guardian onsite or working directly with kids and youth is comprehensively screened.
Never put a minor in charge of other minors! There should always be a fully screened, legal adult present during the activity.
Maintain appropriate staff-to-child ratios and work to manage capacity. Combine classes or activities if necessary.
Have a process to document and store incident photos in a digital format. It helps protect all involved.
Stock and label the location of first aid kits, hand sanitizer, and extra wipes. Check defibrillators, make sure they are working and replace batteries if needed.
Hang laminated lists or flip books of important contact information and safety protocols in visible locations. Highlight the information, so everyone knows its location.
Implement a system for tracking and managing allergy or medical information.
Follow the rule of two and ensure that a child is never alone with one adult, even if it's inconvenient.
Remind guardians and parents to "Pay Attention to Who is Paying Attention to their Child."
Whether you're with a church, school, after-care program, daycare, fitness facility, or activity center, we hope this information helps you create a safe environment.
Subscribe to the KidCheck blog or join our active social community on YouTube, Twitter, Facebook, Pinterest, and Instagram for more safety tips and information.