2021 Trends for Organizational Success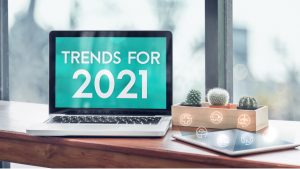 For child and youth-focused organizations, 2021 is about rebuilding. This year offers a fantastic opportunity to create a proactive culture to elevate efficiency, safety, communication and prioritize prevention and response.
Over the last year, many organizations found themselves conducting more daily operations online than ever before. For 2021, the question is around what tools and technologies can I use to help build my organization back up, improve safety, and gain operational efficiency?
Here are some expected trends for 2021:
The Power of Technology
With so much of the daily activity now happening online, there's an increase in the need for a reliable, fast, and safe digital connection. Digital collaboration, working remotely, and video conferencing is the new normal.
For the child and youth-focused organizations of today, the increased use of technology can help prioritize families' needs, and connect teams more readily, For example touchless check-in with Express Check-In.
Express Check-In allows families to check-in using their mobile device and pick-up pre-printed labels onsite once they arrive. Express Check-In is an example of technology in action that benefits both the organization and families with increased convenience and improved onsite operations.
Data Drives Experience
There's been a significant increase in the need for real-time, accurate, and easily accessible customer data. Gathering data from multiple fragmented sources is not easy and takes a lot of time. To operate efficiently in 2021, you must have access to data in one central location that is organized and actionable. Research confirms inaccurate data drains precious resources, limits your response time, and disconnects you from providing a better customer experience.
KidCheck Check-In Surveys is an example of a tool that gathers real-time information and frees you up to focus on what is essential. Check-In Surveys allow organizations to collect necessary information from families right at check-in. The tool can easily create and customize surveys or questionnaires conveniently completed at the start of check-in, saving time, and quickly giving you the information you need.
Benefits of Communication
The importance of clear, concise, and consistent communication cannot be overstated for the coming year. 2020 ushered in a whole new communication level required for both internal stakeholders, volunteers, and families. Effective communication has proven to impact just about every area of an organization.  It influences staff and volunteer culture, increases productivity, promotes good customer relations, and drives organizational growth.
KidCheck offers several communication features such as broadcast email, text messaging, Parent Check-In Notes, and check-In announcements and notifications to assist with the increased need for sharing information.
Safety Training & Response
Ongoing training for leadership, staff, volunteers, and family is a core function and top-tier priority for organizations serving children and youth. Whether you choose to train twice a year, once a quarter, or with weekly standing meetings; training information should include your child protection and safety policies, evacuation procedures, incident response, and Covid-19 containment tools and procedures.
Strong training and development programs ensure a safer environment, eliminate the grey area in working with children, improve safety, and highlight policy violations.
Collaborate for Success
Working across the organization will bring success, while going it alone can make it harder to get things done. Utilizing people with skills beyond what you have to offer increases credibility and provides families a sense of comfort that you are serious about establishing safety and all are working together.
Leaders often think of their teams as only direct reports or the individuals they see daily. Work differently and utilize people with skills beyond what you have to offer. Aligning with other groups in your organization to leverage expertise, reach your goals, and improve safety is a smart use of resources.
Security teams, HR professionals, CPR trainers, first responders, or others with a safety emphasis are excellent sources of knowledge to tap.
2021 is going to be an exciting year because with great trial comes renewed opportunity. Factors such as technology, data, communication, and collaboration will be front and center this year to help build organizations back up and capture new members to continue to grow.
Click here and join us for a free product demo and to learn more about the benefits of using secure children's check-in. To keep the information coming in 2021, do not forget to subscribe to the KidCheck Blog or join us on YouTube, Twitter, Facebook, Pinterest, and Instagram.