Back-to-School Tips For Online Safety And Being Home Alone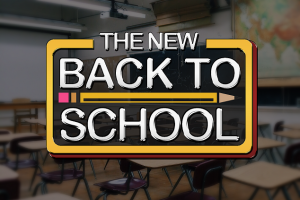 COVID-19 has up-ended the back to school traditions, which means more children will find themselves at home alone. You can help encourage families to discuss child safety and provide information on the topic of how to keep kids safe. Between juggling a new rhythm of work and school, families are overwhelmed, so having tips to share is always appreciated.
It's important to discuss aspects of safety because it helps to build children's self-esteem, confidence, and capability to protect themselves. Here are some online safety tips and a checklist to help parents prepare for kids to be home alone.
Online Safety Tips
Discuss expectations for the use of digital devices such as laptops, smartphones, tablets, and other devices that connect to the internet. Children need to understand the repercussions of texting, location sharing, sharing their passwords.
Encourage families to research apps and online programs that help parents control and monitor both internet usage and device management. Share your own experience and learnings.
Make sure families are reminding their children never to agree to share their picture online or meet up with someone they've never met without getting permission.
Prompt families to open the lines of communication by letting their children know they can share with their parents if they encounter offensive material, a strange interaction, or bullying by peers.
A Safety Checklist for Kids Home Alone
Set a daily schedule for kids to check-in with a parent or guardian or trusted neighbor throughout the day.
Make sure children know their address and what information to provide if they call 911.
Instruct kids on how to use the alarm system, door, and window locks and to confirm they are locked when home alone.
Teach kids never to let anyone know they are home alone or allow anyone into the home that doesn't have parental permission to do so.
Determine with kids an escape plan in case of fire.
If kids are arriving home alone, make sure they know not to enter if something doesn't feel right, there's a broken window, a torn screen door, an open door, or anything else out of place. Have them tell a trusted neighbor.
Open lines of communication and make sure children know they can share anything that is frightening them or making them feel uncomfortable. Parents should resist being harsh or critical as that kind of response might shut down any communication.
Kids should also be taught never to enter someone else's house without parental permission.
Thank you for your interest in improving child safety. We hope this information is helpful to share with the families you serve. Whether you're sending out weekly tips, a monthly newsletter, or are active on social media, helping families improve safety is vital.
Click here to learn about the benefits of using secure children's check-in. For more safety tips, best practices, and original content join our growing social community. You can find us on Twitter, Facebook, Pinterest, and Instagram.
Source: https://www.cityofboise.org/