Preparing for Easter & KidCheck Resources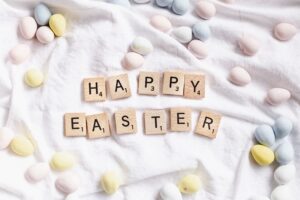 Easter is one of the most celebrated holidays of the year and a time of welcoming new families. To get the most out of your organization's Easter efforts, here are some resources that will help the day run smoothly, demonstrate your commitment to child safety, and free up your time to focus on what matters – new and returning families.
Initial Greeting
It's important to encourage your team to make eye contact and smile when meeting new families for the first time, use welcoming and open body posture, and put away distractions such as cell phones or things that divert their attention from the conversation. Assist your team in learning to build a repertoire with new families by taking an interest in their attendance and helping them to find classrooms or activities. If needed, role-play or rehearse your conversations if volunteers feel timid about greeting new families.
Help families sign in or set up their account. The key is to capture enough information to follow up, yet not make them feel overwhelmed. Our suggestion, collect basic, relevant information that can be quickly provided. Consider name, phone, email, the child's name, and birthday. Having an email address triggers a direct email to the visitor from KidCheck to remind them to create a login account (name and password) and input the rest of their account information from the comfort of their home. After this, they will be all set for check-in the next time they attend.
Emphasis Simplicity
Families love the convenience of Touchless Express Check-In because it reduces lines, increases efficiency, and builds a positive first impression. By including mobile check-in, parents can begin check-in remotely from their mobile devices. Then upon arrival, tap submit on their device, and Express Check-In, coupled with the ExpressHub, completes the check-in and automatically prints labels.
Planning for More
Easter brings in new visitors. To help prepare for the increase in attendance and keep things running smoothly:
Add a Temporary License or Edition Upgrade:  If and when you need it, for busy times or a special event, you can temporarily add licenses for more check-in stations or change editions to take advantage of more features. No hidden fees or costs. You'll only pay for what you need for as long as necessary. Just let us know.
Multi-Service Feature: Easily track children's check-in and attendance across multiple services.  Parents/guardians choose and check children into multiple services right at the time of the initial check-in. There's no need to check in and out between services or reprint badges. Organizations can easily see who is checked-in across multiple services and still provide accurate attendance tracking by individual service.
Ensure Tablets and Computers are Up-to-Date: On your iPads or other tablets, go to the Apple App Store of the Google Play Store and check to be sure your KidCheck App and Admin Console App are up-to-date. For your computers, if you have not recently checked for and processed operating system updates, be sure to do so before Easter.
Communicate for Connection
Communicating for connection means that you're not solely focusing on what is being said but on how your words will be understood, and clear communication allows you to better manage the day. These resources help your message stand out, inform, and follow up.
Follow Up
Once the Easter festivities are over, give new visitors a reason to return. Follow up with a handwritten note thanking them for attending. Invite families to a short information session to share details about your children's program or meet with them to answer any questions. Easter is also a good time to announce upcoming children's programs, such as VBS or a weekly mom's group that's starting up.
First impressions are lasting and difficult to overcome if they're not positive. People make both conscious and unconscious judgments about competence, professionalism, and safety on what they first see. Never overlook the importance of offering a few common courtesies, ongoing support, and the invitation to connect.
Click here to learn more about the benefit of using secure children's check-in for your children's area at Easter, or join us online. We can be found on YouTube, Twitter, Facebook, Pinterest, and Instagram, or subscribe to the  KidCheck Blog.
Photo by Priscilla Du Preez on Unsplash