Top Five Easter Child Safety Tips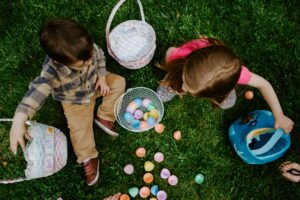 Easter is around the corner, and we want to help your organization have a fun and safe celebration, with an emphasis on SAFE! It doesn't matter where you are in the process of planning. It's always a good time to improve child safety.
Child safety is a significant factor when new and visiting families consider returning and attending families continue to choose to participate. Easter is prime time to show your child protection chops and let those first-time visitors know it's a top priority. Remember, "You never get a second chance to make a good first impression." People quickly make evaluations regarding child safety, either negative or positive, and both create images in their minds, which can be lasting and difficult to change.
Here are the top five Easter safety tips to ensure a safe celebration and a positive first impression.
Number 5: Stock or Build First Aid Kits
An emergency is the worst time to search for the supplies you need. Easter is the perfect opportunity to build or restock your first aid kits. All first aid kits should be kept in a closed container, in a marked and easily accessible location. When deciding what to include, there are numerous choices, and pre-made kits are a good option. To design your own first aid kit click here to see a list of potential items to include.
Number 4: Allergy Proof Your Event
Easter goodies are often the culprits for serious allergic reactions. Stay away from giving out anything edible with nuts, egg products, heavy dyes, or other major allergens. To prevent choking, never offer small candy or toys to kids under the age of 5. Make it a safety guideline that small toys or edibles should never be given without supervision or consent.
Number 3: Secure Your Facility – Leverage Your Security Team
Before Easter, walk through your facility and evaluate where you can increase safety. Consider inviting your local first responders to tour the children's area and recommend ways to improve safety. If your egg hunt occurs indoors, make sure eggs are not hidden in low visibility areas, near electrical outlets, or other dangerous spots where there's minimal supervision.
Your security team is a fantastic resource for incident management. Security teams are trained to deal with conflict and provide many safety benefits before, during, and after a large event. Make sure to reach out and familiarize yourself with the security team. Ask to have resources such as dedicated personnel, communication devices, or access to messaging apps for the children's area.
Number 2: Make Emergency Information Accessible
Training your staff and volunteers is essential for annual events. However, there might still be questions about the actions needed during an emergency after safety training. That's why it's best to have emergency information readily available in each classroom and main gathering areas. To help with this, we suggest our complimentary Emergency Instructions FlipBook. It's a step-by-step guide that you can customize and easily print, which provides quick access to emergency actions and instructions. In addition, it provides details on what to do in case of weather, fire, medical, evacuation, threats, and more.
Number 1: Have a Well-Defined Check-In/Out Process
Why is check-in and out number one?  Because it is a key piece of the overall safety puzzle. It offers value that extends far beyond attendance tracking and demonstrates to new families that child safety is a priority.
Whether you are using the latest technology in electronic children's check-in systems or a manual process, you must have some type of process in place to ensure that staff and volunteers are releasing children only to those authorized to pick them up, have access to accurate attendance records, visibility to allergy or medical data, and current contact information for guardians.
For more information on child safety and the benefits of using electronic children's check-in, subscribe to the KidCheck blog, connect with us on social media. We are on YouTube, Twitter, Facebook, Pinterest, and Instagram, or join us for a free product demo.
Photo by Gabe Pierce on Unsplash