The Top KidCheck Posts for 2022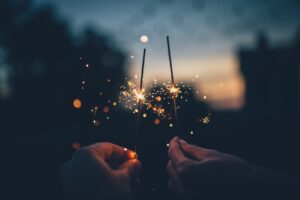 Happy New Year!
2022 was an exciting year, with many of our customers continuing to grow and develop their organizations. Through it all, our goal has remained the same to partner with you so you can confidently walk into the future knowing you've done all you can to increase child safety, connect deeper with families, and create an experience in the children's area that puts volunteers and staff at ease and encourages families to return.
Here's a look at our ten most popular posts for 2022.
There is no denying the weekly experience with children's ministry has changed. However, organizations are working hard to get to where they need to be, and while some factors have shifted, one element remains constant, prioritizing child safety.
The best practice shares how secure children's check-in is about much more than just attendance tracking. We cover five advantages of using a full-featured, scalable check-in solution that boosts child safety, increases data accessibility, easily connects you to families, and streamlines the overall check-in and out process.
It's no secret that finding volunteers has its challenges. To address the issue, many are turning towards younger attendees in middle and high school ministries to build a conduit of active and engaged volunteers. Here are some ideas from various organizations addressing the issue while keeping safety standards a top priority.
Vacation Bible School is unique in bringing together new and visiting families who may not attend weekly. Here are some KidCheck resources and child safety tips that will make your VBS run more efficiently and be a safe place that promotes a positive first impression to visiting families.
Do you know what your families want, need, and expect regarding child safety and protection? Do attending families give you feedback or offer suggestions? A survey is an excellent way to gather the information that helps with ongoing decision-making, improving areas that need work, and building an open dialogue with the families you serve.
Doing more with less, heavy workloads, lack of volunteers, budget cuts, over-the-top performance expectations, absence of support, and exhaustion are all day-in-the-life concerns every leader must face. As a leader, you have a high impact on averting burnout. Here are some prevention strategies.
Regardless of your children's area size, it's best to have a safety plan in place. A safety plan is a preparatory approach that combines all the strategic processes and programs that help reduce risk, minimize accidents and injury, offer ongoing training and education, follow standards, and respond to emergencies.
Families are becoming more informed about child safety and know what to look for when identifying gaps in protection. They may choose not to return if they feel that safety is compromised. You must have safety and security measures to grow your organization and reach new families. Here are ten safety mistakes families notice.
It doesn't matter how stable your organization is; change is inevitable. For best results, lean towards a planned approach for succession. Building a plan of action is critical to minimizing chaos and placing key resources where they are needed.
Life comes at us fast, and there's no shortage of advice on improving productivity. The challenge is that many tips or suggestions are random pieces of information that may or may not apply to your situation. Here are 13 of the most useful, everyday productivity hacks backed by research. You can use them stand-alone or in combination with each other. The goal is to find what works for you.
Click here to see how organizations benefit from secure children's check-in, or schedule a personalized demo with us to learn more about the advantages first-hand. For more information, subscribe to the KidCheck Blog or join us on YouTube, Twitter, Facebook, Pinterest, and Instagram.
Photo by Ian Schneider on Unsplash